EXTERNAL SOURCES: pcgs.com ngccoin.com coins.ha.com
INDEPENDENT SOURCES: usmint.gov money.org
Ed. note: This article is periodically updated to reflect the current price of most valuable coins.
The history of the Susan B. Anthony dollar, also known as 1979 one-dollar coin, has plenty of ups and downs, as does its demand within most valuable coins.
Although it was not valued at the beginning by collectors or the public that were supposed to use it, with time it has become a piece that cannot be missing in any modern coin collection. Besides, as you will see below, there are only 18 different types, resulting in its popularity.
Key Takeaways
It is important to keep good track of the prices of 1979 SBA minting errors. So far this year 2022 errors are being auctioned off at much lower prices (up to 50% less) than the 2021 and 2020.
The Susan B. Anthony 1979-P "Wide Rim" dollar variant has set a new 2021 high selling for $6,995. This is an MS67+ NGC specimen that has surpassed the previous 2016 record ($6,463).
Overall their prices have remained stable even in the SBA 1979-P "Wide Rim", SBA 1979-S Proof Type 1 and Type 2 variants.
1979 One Dollar Coin (aka Susan B. Anthony) Value Chart
Coleccionistasdemonedas.com Estimated Value of Susan B. Anthony coin is:
Regular pieces in average grades can be worth $2 as much.
Certain varieties in high grades (MS67, MS68), Proofs, Uncirculated (MS+) or Mint Condition can be Worth until $6,463 (see Susan B. Anthony 1979-P "Wide Rim" MS67+ below).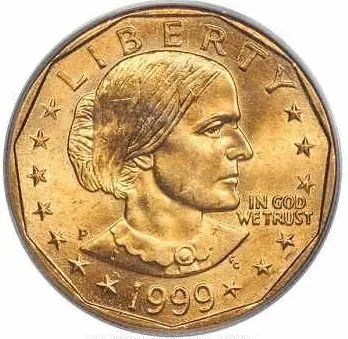 In this post:
Learn to identify the most valuable and collectable Susan B. Anthony dollars.
What minimum grade collectors are looking for.
What the different variants are and errors in these pieces you should look for in order to make money.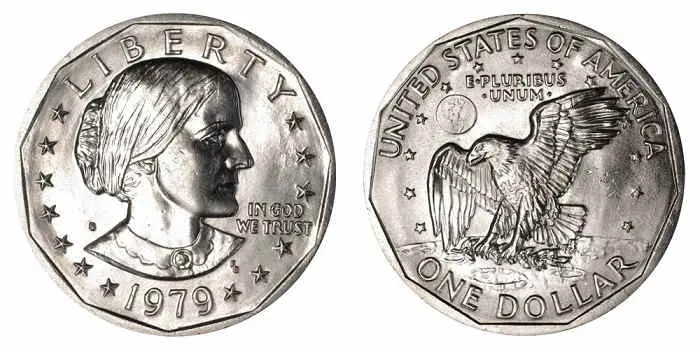 What does a Susan B. Anthony coin look like?
The obverse of the coin shows the bust of suffragette Susan B. Anthony facing right with 13 stars on either side. The mint mark appears on the left and the phrase "In Good We Trust" on the right, below the phrase, are the initials of its designer, Frank Gasparro (FG). In the legend above appears the word "Liberty" and below, the date of minting.
The back shows an eagle landing on the moon with Earth in the background and surrounded by 13 stars. In the legend above is "United States Of America", just below "E Pluribus Unum" and the value in letters – "One Dollar".
How much is a Susan B. Anthony dollar worth?
When it was first minted in 1979, succeeding President "Ike" Eisenhower's dollars, the U.S. Mint had the goal of getting the population to start using dollars in coin currency, to the detriment of dollar bills.
In those days, minting a Susan B. Anthony "Susie B" dollar cost the Treasury about 3 cents, while an Ike dollar cost 8 cents. In addition, the longevity of the coin is approximately 15 years versus the average 18 months that a bill needs to be returned.
The goal of replacing the use of one dollar bills with one dollar coins was not successful, and one of the main reasons for the failure was the size of the Susan B. Anthony dollar.
The intention of the U.S. Mint was to make the $1 coin more functional by trimming both its weight and diameter (Ike's dollars were very large – 38.1 mm – and heavy) and this was not accepted by Americans.
The fact is that its diameter was very similar to that of the quarter, in fact, its dimensions were between a quarter and half a dollar. That's why the Susan B. Anthony dollar was nicknamed "Carter Quarter" by the population, since it was approved by Congress on September 26, 1978, and promulgated by President Jimmy Carter on October 10, 1978.
About $860 million of Susan B. Anthony coins were minted during the years 1979 (the year with the highest number of units produced) through 1981 at the US Mints:
Mints of 1979 Susan B. Anthony dollar
Philadelphia (P) since December 13, 1978
Denver (D) since January 9, 1979
San Francisco (F) since January 29, 1979
After an 18-year hiatus in its minting and due to the need that arose from the public's use of the Susan B. Anthony dollar for payment of transportation tokens and for exchange of U.S. Postal Service vending machines, another 41.4 million units of the Susan B. Anthony dollar were minted in 1999.
That year, 1999, was the last year of its coinage to be replaced by the Sacagawea "Golden Dollar".
1979 Susan B. Anthony dollar values and types
A total of 12 different types of Susan B. Anthony dollars were minted for circulation (Regular strikes) and 6 types in Proof quality, including different dates, mints and qualities.
The table below shows the number of coins minted by year and mint:
SBA regular strikes coinage by year
| | |
| --- | --- |
| Regular Strikes | Coinage |
| 1979-P | 360,222,000 |
| 1979-P Wide Rim | 360,222,000 |
| 1979-D | 288,015,744 |
| 1979-S | 109,576,000 |
| 1980-P | 27,610,000 |
| 1980-D | 41,628,708 |
| 1980-S | 20,422,000 |
| 1981-P | 3,000,000 |
| 1981-D | 3,250,000 |
| 1981-S | 3,492,000 |
| 1999-P | 29,592,000 |
| 1999-D | 11,776,000 |
SBA proof coinage by year
| | |
| --- | --- |
| Proof | Coinage |
| 1979-S Type1 | 3,677,175 |
| 1979-S Type2 | 3,677,175 |
| 1980-S | 3,554,806 |
| 1981-S Type1 | 4,063,083 |
| 1981-S Type2 | 4,063,083 |
| 1999-P | 750.000 |
The year 1981 was the lowest number of Susan B. Anthony dollar units issued for circulation, not reaching 10 million units among the three mints, Philadelphia, Denver and San Francisco.
Perhaps that is why the prices of the 1981 dollar are among the highest in high quality, especially the 1981 Susan B. Anthony dollar from the San Francisco and Philadelphia mints.
Entering the Susan B. Anthony dollar prices, the 12 Regular Strikes models in medium-low qualities have no more value than their face. From medium grades, prices range from $1 to $2, except for the 1979-P Wide Rim which is valued at $12 to $20.
What is the 1979 Philadelphia SBA "wide rim" variant and its value?
As for the variants, we already see in the previous table that there is a first type of variant for the 1979 Susie B Philadelphia dollar regular strike, whose edge is wider than usual, almost touching the digits at the ends of the date, so suitably called "Wide Rim".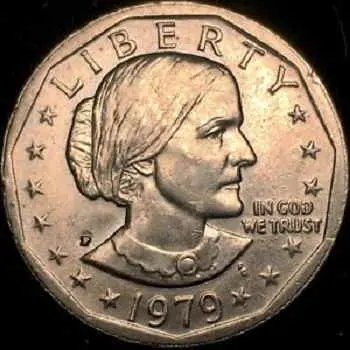 In the photos, it is better appreciated as the edge of the coin on its obverse almost touches the digits 1 and the last 9 of the date. We do not know the number of 1979 Philadelphia Wide Rim units that were minted, so we include them in the total units produced at the 1979 mint.
The value of the 1979-P SBA "Wide Rim" dollar varies according to its graduation. It is valued at over $21 in MS61 up to a few thousand dollars in MS67+ quality, the highest known for this type of specimen.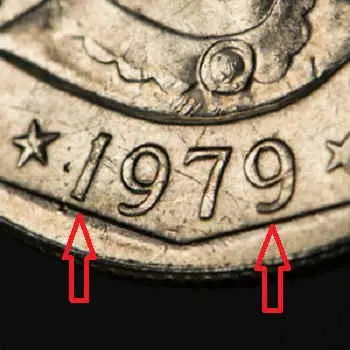 Specifically, in 2019 two PCGS certified MS67 copies of this variant were auctioned at $2,081 and $2,138.
This year 2020, several PCGS MS66 copies have appeared and have been auctioned in a range of $76 to $1,191.
The record price is a Susan B. Anthony 1979-P "Wide Rim" MS67+ sold in 2016 for $6,463. That same copy sold for $4,935 the previous year, a 24% loss in value over 4 years.
Type 1 and Type 2 SBA Proof Dollars and their Prices

There are two other variants, but only in the proof models, classified as types 1 and 2 appearing in the years 1979 and 1981 from the San Francisco Mint only.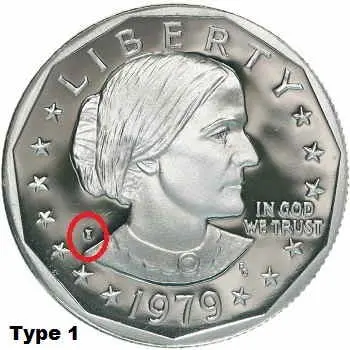 Of these two types, the most valuable is the rarest of the two, Type 2. This variant consists in the fact that the San Francisco mint mark ("S") of the Susan B Anthony dollar is much sharper and clearer than in Type 1.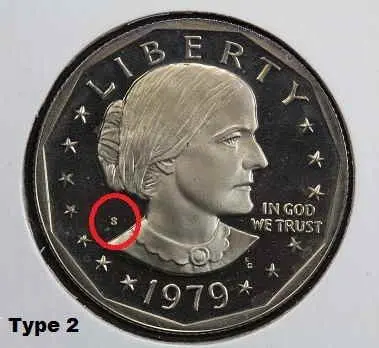 The prices of the Susan B. Anthony 1979-S Type 2 dollar in the highest quality, MS67, have moved during this year (2020) between $104 and $174. However, in the year 2019 its prices were higher, moving in a range between $110 and $208.
On the other hand, the Type 2 variant of the Susan B. Anthony dollar from 1981-S has a significantly higher value than its 1979 predecessor. MS70 quality copies have sold this year between $336 and $480. During 2019, their prices oscillated between $192 and $312.
In summary, the fundamental difference of these two years in which the variant known as Type 2 was produced lies in the fact that the prices of the 1979-S MS70 Susan B. Anthony dollars have suffered a drop from 2019 to 2020. Meanwhile, the valuation of the 1981-S MS70 dollar has risen in 2020 from 2019.
What other minor errors can be worthwhile?
There are other Susan B. Anthony dollar errors that may be more valuable than the variants seen above. These are mostly minting errors or currency defects.
Thus we can find errors that have come to auction this year (2020) with the following auction prices:
1999-P Sacagawea MS65 PCGS coinage: $12,000
1979-P coined in 25 cents cospel AU58 NGC: $900.
1979-D coined with loss of nickel coating MS63 PCGS: $552.
1979-P 25-cent coin minted MS62 PCGS: $510.
1979-P MS62 NGC obverse stamp break: $483.6.
1999-P coined 25 cents cospel MS62 NGC: $384.
You can see pictured below a Susan B. Anthony 1999-P (last year of production) coined on a golden dollar Sacagawea die. This piece was auctioned by Heritage Auctions in February of this year and reached $12,000.
References
The Official Red book 2023: A Guide Book of United States Coins.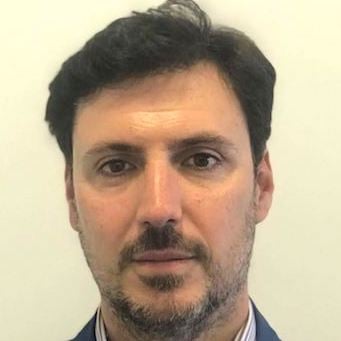 Numismatic collector with a passion for history, particularly Spanish history.
I have a degree in Business Administration and Management and numismatics studies at the
University of Murcia (Spain).