EXTERNAL SOURCES: pcgs.com ngccoin.com coins.ha.com
INDEPENDENT SOURCES: usmint.gov money.org
Ed. note: This article is periodically updated to reflect the current price of most valuable coins.
There are coins to collect, and then there are incredibly valuable coins. What pieces of your coin collection should you gather for profit if you decide to sell? Which are the most valuable coin collections to buy? Some of the rarest coins are worth hundreds, thousands, and even millions of dollars. In reality, the selling price of a particular coin is determined primarily by its volume of demand, which changes over time due to factors such as new trends or avid coin collectors preferences. Here are our two cents on these questions about expensive coins and more.
Key Takeaways
What coins to look for that are worth money? Several auction records were achieved in 2021, so the order of the 12 most valuable coins has been slightly modified.
What coins are valuable in 2023? The most valuable coin has been the 1933 King Farouk Double Eagle which was auctioned in June 2021 for $18,872,250 at Sotheby`s, unseating the 1804 Bust Drapped Ex Childs, which in 2021 lowered its auction to $7,680,000 and ranked third.
What coins are most valuable ever? The 1787 EB Doubloon Ex Garrett Collection also set a record in January 2021, reaching $9,360,000 at Heritage Auctions, thus moving up to the second position in our ranking.
Rare Coins that are Worth Money List in 2023 
Which old rare coins are the most valuable and rare on the coin collector's market today? Contrary to common coins, you should know that some of them are really rare coins that have been seen in public offerings very few times. They are true gems sought after by many avid coin collectors. In this article, you will learn the list of coins sought after by collectors in the United States.
Below is a summary table of the pieces in this article. You can find out about rare coins with value in our old coins value chart.
Valuable Coins list 2021/2022
U.S. Rare coin
Worth
1. $20 Saint Gaudens Double Eagle 1933 "King Farouk of Egypt"
$18,872,250
2. Brasher doubloon, initials on the chest 1787 "Ex Bushnell-Garret Collection"
$9,360,000
3. Dollar Bust Drapped 1804 "Walter H. Childs"
$7,680,000
4. Liberty Head Nickel 1913 "Louis E. Eliasberg"
$4,560,000
5. Trade Dollar 1885 Ex "Atwater-Eliasberg"
$3,960,000
6. Flowing Hair Chain Cent S-4 1793 BN "Parmelee-Brand-Naftzger"
$2,350,000
7. Copper Quarter Dollar 1792 Judd-12, Pollock-14 BN Ex "Bushnell-Parmelee-Brand-Judd"
$2,232,500
8. Indian Head Rolled Edge $10 1907 Ex "Fran A. Leach"
$2,185,000
9. Liberty $5 1854-S
$2,160,000
10. Aluminium Lincoln Penny 1974-D "Harry E. Lawrence"
$2,000,000
11. Seated Liberty Dollar No Motto 1866 "DuPont"
$1,500,000
12. Liberty Seated Dollar 1870-S "Col. Green-James A. Stack"
$1,092,000
Most of these valuable coins have real movie-like but true stories from chance discoveries in collections or wooden boxes in a library, thefts from collections, Secret Service intervention, World War II, 9/11, etc.
We have tried to avoid showing in the article proofs coins, error coins (like doubled die obverse errors), or other types of pieces that were not intended for circulation. And we have organized them by their most current sale or auction prices, which implies that the prices we have shown in this article could be exceeded or lowered in a future public deal.
#1 1933 $20 Saint Gaudens Double Eagle – MS65 "King Farouk of Egypt" – $18,872,250, the most valuable
| | | |
| --- | --- | --- |
| Units | Identification | Grade |
| 1 | Rey Farouk/Sotheby´s | MS65 |
| 2 | Smithsonian | MS65 |
| 10 | Joan Swift Langbord | MS64 / MS65 |
Thirteen $20 Double Eagle St. Gaudens coins are believed to have survived the test of time: 10 pieces seized by the U.S. Government from Israel's Swift family, two copies left by the U.S. Treasury Department in 1933 when it was ordered to be removed, and one copy, the only one with a certificate to be able to circulate, which was auctioned for $7,590,020 at Sotheby's/Stacks.
(UPDATE) This coin has set a sales record that has placed it in the first position among the most expensive American coins.  It was auctioned in June 2021 for $18,872,250 at Sotheby`s.
In 1933, with the country still in crisis at the tail-end of the Depression, President Franklin Roosevelt eliminated the gold standard and ordered the removal and melting of all gold coins.
That year of 1933, only 445,500 coins were minted at the Philadelphia $20 Double Eagle Mint, also called the $20 Saint Gaudens, in honor of its designer, Augustus Saint Gaudens. With a weight of 33.4 grams, it is composed of gold (90%) and copper (10%). Almost all of the 1933 $20 Double Eagle coins were retired and melted down, although the United States Mint kept two currencies.
As a result, very few 1933 coins survived, and those that did, because they were in private hands, were outlawed after the presidential order came into effect on March 6, 1933, ordering their smelting.
In 1944 the Treasury Department authorized the sale of a copy to King Farouk of Egypt by mistake. After years of trying to recover the currency, it was not until 1952, with the deposition of the king, that this copy appeared in a public auction next to the monarch's possessions. But the coin disappeared again.
In 1996 the merchant Stephen Fenton was arrested by the Secret Service for possessing what was later certified as King Farouk's $20 Double Eagle coin. The merchant went to court to try to maintain possession of the coin, but in 2001 they ruled in favor of the United States Government.
Again the United States Government issued documents to make the coin legal. The currency was kept in custody in the World Trade Center building until a few months before its destruction on 9/11.
This coin, which graduated in MS65, was offered up in July 2002 at a public auction by Sotheby's together with Stack's for $6,600,000, plus 15% commission and an additional $20 for the face value of the coin. This coin amounted to $7,590,020 shared between the United States Government and Stephen Fenton.
In 2003 10 copies of the $20 Double Eagle St. Gaudens were discovered in a safe deposit box by a relative of the Israel Swift collector, Joan Swift Langbord, and sent to the Mint for authentication.
The problem was that the Mint, with these coins classed "illegal" (as they had no certificate to make them legal tender), refused to return them. To this day, the heirs of Israel Swift continue their dispute with the United States Department of the Treasury.
#2 1787 Brasher Doubloon, initials E.B. on chest, W-5840, NGC MS65? – $9,360,000
This is the first gold coin minted in the United States by jeweler Ephraim Brasher in 1787. It was originally worth $15.
Due to the extreme rarity of the 1787 Brasher Doubloon (only 7 original pieces are known) and given its high value and the rudimentary form of its minting there are numerous forgeries of the coin.
In fact, by 1861, Alfred Robinson from Hartford had made 50 copies of the Brasher Doubloon (25 in copper and 25 in brass).
The original copies have a stamp on the back with the initials E.B. (Ephraim Brasher). Only one copy has it on the eagle's chest and the rest of the copies (including the one kept at the Smithsonian) have it on the wing.
Very rarely has the sole specimen of brasher doubloon 1787 with the eagle's breast stamp come to market. In 1981 it was auctioned in VF graduation and sold for $625,000, in 2005 they raised the graduation to EF45 and the price reached $2,990,000.
In 2021 a 1787 Brasher doubloon has a set a record for any U.S. gold coin. It realized $9.36 million in Heritage, Jan. 2021 auction.
#3 1804 Draped Bust – PR68 "Walter H. Childs" – $7,680,000, a rare dollar coin to collect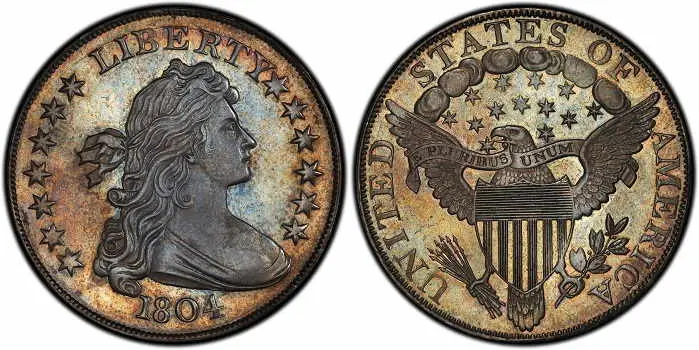 This is one of the rarest dollar coin to look for in American numismatics. Although the date 1804 appears, this Draped Bust Dollar was not minted until 30 years, or even longer depending on the type, after the date of the legend.
The origin of the coinage was its presentation for diplomatic purposes to certain personages in 1834. They were reactivated years later (1857) in a sporadic way.
A total of 15 pieces of the Draped Bust 1804 are known of, divided into three types or classes according to differences in design and/or minting.
Class I – Song with letters: "HUNDRED CENTS ONE DOLLAR OR UNIT": 8 specimens probably coined around 1834.
Class II – New back, smooth edge. Coined on a Swiss taler 1857: 1 copy preserved at the Smithsonian Institute. Probably minted after 1857.
Class III – New back, lettered edge: 6 copies minted after 1857.
The record price for this piece was a Dollar Draped Bust 1804 Class I with PR68 graduation that sold for $4,140,000 in 1999 and then went up in 2016 to a record price of $9,200,000.
Another Class I (Mickley-Hawn-Queller) model with a PR62 rating reached $3,877,500 in August 2013.
A Class III PR58 Draped Bust Dollar reached a record price of $2,300,000 in 2009. The Willis H. Dupont collection is the highest graduation (PR63) and is on deposit with the American Numismatic Association.
In 2021 it has suffered a setback in its listing, dropping its auction price to $7,680,000.
#4 1913 Liberty Head Nickel – PR66 "Louis E. Eliasberg" – $4,560,000
It is not known why these coins were minted at the Philadelphia Mint. The fact is that they were the only ones of this type minted in 1913, since that same year the Buffalo Nickels began to be produced (more info about 2005 Buffalo nickel: value and error coins).
There are certain theories that claim they were samples minted in 1912 as a continuity for the following year of these coins, and other theories assert they were created by someone from the mint in the knowledge that they would be replaced for speculative purposes.
Only 5 1913 Liberty Head Nickels are known, the copy known as the property of Louis E. Eliasberg is the best preserved, with certain proof areas, and the one that has reached the highest value in the market. In 2018 this PR66 reached a record price of $4,560,000 at Stack's Bowers auction.
The next best quality 1913 Liberty Head Nickel is the "Olsen-Hydeman", a PR64, which in 2010 sold for $3,737,500 and in 2014 for $3,290,000.
The specimen known as "Walton", a PR63, was auctioned in 2013 for $3,172,500.
The last two specimens are a PR62 specimen at the Smithsonian Institution, donated by the "Norweb" family; and the PR55 known as "McDermott-Bebee" at the National Museum of the American Numismatic Association, thanks to the donation of Aubrey and Adeleine Bebee.
#5 1885 Trade Dollar – PR66 Ex "Atwater-Eliasberg" – $3,960,000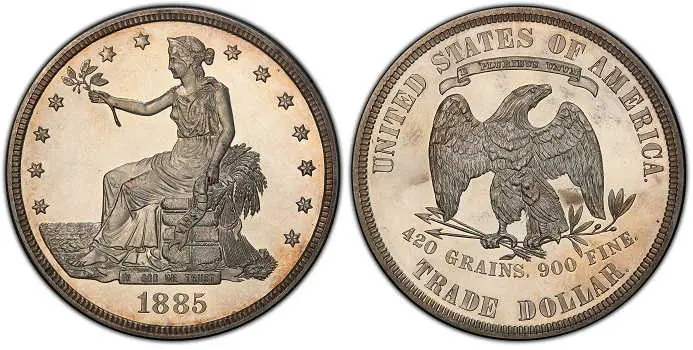 The piece is another currency in this article shrouded in mystery. The 1885 Trade Dollar was minted with no mint mark in the first half of 1885, yet it did not appear to the public until almost 25 years after its manufacture, in 1913.
Nor is there any record in any written document from the Mint of the creation of these specimens, records which did occur for the previous year of 1884.
In any case, their study reveals that they were struck at United States Mint, with the mint team, in the year of their date, with official stamps and plates identical to those of previous years. In addition, these Trade Dollars were in force until 1887 so there is no doubt that they were an official mint.
There are only 5 copies of the 1885 Trade Dollar, and this one we present, known as the Ex Atwater-Eliasberg, is the best-preserved, in PR66, which in 2019 achieved the record figure of $3,960,000.
Other copies are:
Simpson Granberg PR63+Cameo coin: $920,000 in 2003
Farouk PR62 coin: $1,006,250 in 2004
Specimen Adolphe Menjou
Olsen PR64 coin: $1,320,000 in 2020
#6 1793 Flowing Hair Chain Cent S-4 – MS66 BN "Parmelee-Brand-Naftzger" – $2,350,000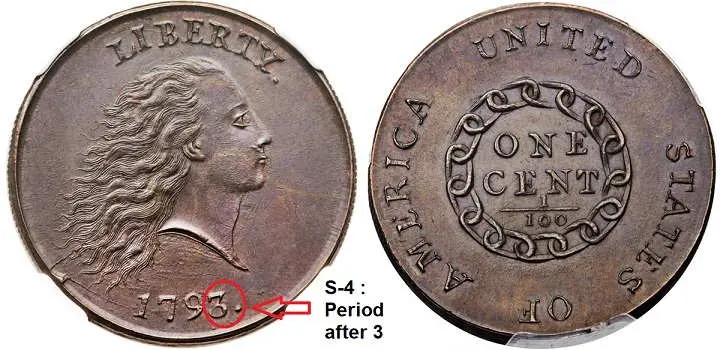 This type of copper pennies was one of the first federals minted at the Philadelphia Mint in March 1793. A total of 36,103 units were minted from March 1 – 12.
In total, the NGC and PCGS graduation companies only have 28 MS (Mint State) graduates of all varieties.
This specimen is grouped in the variety or type S-4 with a dot after the last digit of the date on the front. Precisely this fact together with the treatment given to the floating hair presents doubts around the identity of the piece's engraver, although at the moment it is attributed to Henry Voight.
In 2015 this MS66 BN (Brown) piece, which belongs to the Parmelee collection (acquired in January 1879), Virgil Brand and later Ted Naftzger (until 1992), was auctioned at $2,350,000, a record price until then for the best Chain Cent of 1793.
#7 1792 Copper Quarter Dollar Judd – 12, Pollock-14 – MS63 BN Ex "Bushnell-Parmelee-Brand-Judd" – $2,232,500
Composed of 99% copper, Liberty is represented with a bow on the front, unlike other values that year in which it has loose hair, and changing the full legend "LIBERTY PARENT OF SCIENCE AND INDUSTRY" for just "Liberty". This fact suggests that there were different engravers for the coins of 1792, assigning the Copper Quarter Dollar 1792 to Joseph Wright, so much so that the image of the Liberty bust is speculated to correspond to the portrait of Wright's wife.
There are only two known copies of the Copper Quarter Dollar 1792. The AU50 is in the Smithsonian Institution's National Numismatic Collection.
The largest, an MS63 BN graduated from the NGC, was auctioned at $2,232,500 in 2015 and belonged to such illustrious collections as Lorin G. Parmelee, Charles I. Bushnell and J. Hewitt Judd.
If we see the MS63 BN again at auction (because it is not likely that the copy kept at the Smithsonian will be on sale) we think that its value will be higher than that achieved in 2015, since in 157 years it has only been on public sale 5 times.
#8 1907 $10 Indian Head Rolled Edge – PR67 Ex "Frank A. Leach" – $2,185,000
Also designed by Augustus Saint Gaudens, this 1907 $10 Indian Head Rolled Edge is one (if not the best) of the known specimens. We have tried on several occasions to collect data to find out the exact number of surviving specimens but it has been impossible, so we estimate a range from 10 to 50 pieces.
Known as the Frank A. Leach specimen because it is the name of the director of the Mint, this specimen has a PR67 graduation and a satin tone. It is the best known and was auctioned in 2011 for $2,185,000.
There is another PR67 that was put on auction in 2002 with a starting price of $3,000,000, and was not sold.
#9 1854-S $5 Liberty – XF45 – $2,160,000
Unlike some of the coins in this article, the $5 Liberty 1854 San Francisco mint was a regular issue of which we know 268 copies were minted, the second-lowest issue in the entire series.
Of this small print run, we know of only 4 copies and one of them is at the Smithsonian Institution.
Specimen FCC Boyd-Eliasberg. AU58+. Reached $1,920,000 in March of 2020.
Lilly-Farouk-Col. Green Species. AU58. The specimen found at the Smithsonian Institution.
Wolfson Species. XF45 by PCGS. Stolen in 1967 and never recovered.
Specimen XF45 by NGC. Discovered by a collector in 2018 and publicly auctioned (the specimen we are talking about in this article) reaching $2,160,000 in August of the same year.
#10 1974-D Lincoln Penny Aluminum – MS63 "Harry E. Lawrence" – $2,000,000
By 1973 the price of copper had skyrocketed. The cost of producing copper pennies was 1.66 cents per unit, so United States Mint decided to use aluminum for the 1974 cents, despite pressure from the mining sector. Something similar happened during World War II when all the available copper had to be used for war production, and the Lincoln head copper penny was made out of low-quality steel in 1943. United States Mint finally shut down production, and the millions of aluminum 1974 Lincoln Penny were melted down at the Philadelphia and Denver Mints.
However, some copies, such as those given as samples to certain personages and officials, were not confiscated and remained in private hands. The 1974 aluminum Denver Lincoln Penny belonged to an official of the Denver Mint, Harry Edmond Lawrence. After his death, the coin was passed down to his son Randy Lawrence who intended to exhibit it next to a merchant and then auction it.
Upon learning of this, the Mint intervened in 2014, confiscating the coin for not having permission to circulate. The PCGS grading company was able to value it by granting it an MS63 grading.
Because it is the only coin known to date, it has very clear traceability and history, and for a MS63 graduation, the 1974 aluminum Lincoln Cent is valued at $2,000,000.
#11 1866 Seated Liberty Dollar No Motto – PF65 "DuPont" – $1,500,000
The dream of any collector is to come across valuable silver coins by chance, and that is the story of the 1866 Seated Liberty Silver coin Dollar No Motto, which was found by a Maine librarian in a coin basket.
Until that moment the 1866 Seated Liberty No Motto Dollar had been missing for more than 35 years after being stolen from its owner.
There are only two known copies of the 1866 silver coin that differ from the other coins of the same year in that they are missing the motto "IN GOD WE TRUST" on the obverse, just above the eagle as shown in the image below.
One of them, the copy known as "Willis H. DuPont" is certified by NGC in PF65. It was donated to the Smithsonian Institution's National Numismatic Collection where other pieces of the DuPont family are already found, such as the 1866 Half Dollar No Motto and the 1866 Quarter Dollar No Motto.
The other copy of the 1866 Dollar Seated Liberty No Motto known as the "Virgil Brand" also graduated from the NGC company at PF63.
The valuation of the DuPont model, as it has no market price, is an estimated valuation. Thus for PCGS, the value is $1,500,000.
#12 1870 Liberty Seated Dollar – MS62 "Green-James A. Stack Col. – $1,092,000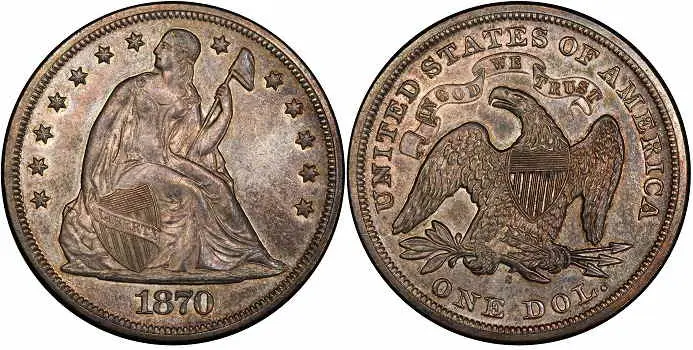 The Liberty Seated Dollar 1870-S coincides with the same issue as the 3 gold dollars and 10 cents of 1870-S.
It had its first appearance at the Numismatic Exhibition of the American Numismatic Society in 1914.
It is very curious that there are no records of its production or written evidence of its existence. Just 12 copies are known. And more curious still is that only one, the one that heads this copy, has an uncirculated graduation while the other 8 graduated copies do have evident signs that at some time they were in circulation.
Of the 12 known specimens, 9 are catalogued in a range from G06 to MS62. Another specimen appeared and disappeared in the 1990s and another is supposedly buried in the cornerstone of the Mint building in San Francisco.
The auction sale of the best 1870-S Seated Liberty Dollar graduated from MS62 in 2003 was the highest of all, $1,092,000. This makes us predict and indeed hope that the next time this copy appears in auction its sale price will be much higher.
Here's a quick recap of the most valuable coins in the United States:
U.S. Valuable coins list 2021/2022
Coin
Record Price
1. $20 Saint Gaudens Double Eagle 1933 "King Farouk of Egypt"
$18,872,250
2. Brasher doubloon, initials on the chest 1787 "Ex Bushnell-Garret Collection"
$9,360,000
3. Dollar Bust Drapped 1804 "Walter H. Childs"
$7,680,000