EXTERNAL SOURCES: pcgs.com ngccoin.com coins.ha.com
INDEPENDENT SOURCES: usmint.gov money.org
Ed. note: This article is periodically updated to reflect the current price of most valuable coins.
Why are Indian Head cents valuable and what are the characteristics of those most sought after?
Key Takeaways
Unlike other types of U.S. currencies, Indian Heads have not seen their values increase across the board in the last two years.
Their prices in high gradations have remained stable and have even decreased with respect to some auctions prior to 2020.
As always there are exceptions such as this 1859 1C MS65 PCGS piece, sold on Feb 27, 2022 for $6,600 or this 1873 1C Doubled LIBERTY, Snow-2, FS-102, MS64 Red and Brown PCGS, sold on Feb 27, 2022 for $26,400.
Indian Head Penny Value
Coleccionistasdemonedas.com Estimated Value of Indian Head Penny is:
In low grades specific types of this coin can be found between $30 and $40.
In high grades (MS67, MS68), Proofs, Uncirculated (MS+) or Mint Condition can be Worth until $149,500 (see below).
The high demand for the Indian Head Penny by U.S. coin collectors is mainly due to 3 factors:
Its extensive minting period (1859 – 1909).
Historical context: Its production began before the outbreak of the Civil War (so the first years of these coins are in greater demand) lasting until the turn of the century, a few years before the start of World War I.
Scarcity: As they have a copper content of 88% and are more than 100 years old, the best-preserved specimens are more scarce and valuable.
List of most valuable Indian Head Pennies
So, what are the most valuable Indian Head pennies? Here you will find out the key dates and variations that make them most sought-after.
#1 1859 without Shield – $34,500 MS66+
Although we always recommend investing in high-quality specimens, it is important that you also pay attention to the price brackets for low and medium quality 1859 Indian Head Cents.
In low qualities, the 1859 Indian Head Cent (without shield) is valued between $30 and $40, and for medium qualities between $50 and $400. However, in high qualities, and in MS61 graduation, its value is between $450 and $18,500.
In Proof coinage, its prices are estimated between $1,000 and $18,000. 800 units were coined this year.
In 1860, its second year of minting, the shield was introduced on the Indian Head Cent that would remain until 1864. Therefore, the 1859 Indian Head is a year whose design differs from the standard, due to the lack of the shield.
As the first year of coinage, the 1859 Indian Head Cent had a high circulation of 36,400,000 units. However, few specimens are preserved in high quality. PCGS has only 200 specimens in qualities greater than or equal to MS65.
There are only 7 copies in MS66+ quality. One of them reached the record price of $34,500 at auction in 2012. Another MS66+ was auctioned last year but was only priced at $19,200.
1859 Indian Head Penny Value Chart
|   | 2020 Prices | 2019 Prices |
| --- | --- | --- |
| MS66+ |   | $19,200 |
| MS66 | $3,000-$4,080 | $4,230-$5,760 |
| MS65 | $1,680-$1,980 | $1,500-$1,740 |
As you can see, prices have changed in completely opposite directions in 2020 depending on the quality. While the prices of the MS65 qualities have increased with respect to 2019, the values in MS66 qualities have suffered a decrease this year.
#2 1868 – $72,000 MS66+ RD
Despite having a wide circulation of 10,266,500, the 1868 RD Indian Head in high qualities is highly sought-after. So much so that in 2019 an MS66+ coin, the only one listed by PCGS, was auctioned off at $72,000.
In MS65 quality or higher, only 57 RD copies are listed, and most of them in MS65 quality (48 of 57).
This year one 1868 Indian Head RD has appeared in MS65+, reaching a value of $3,840. In MS65 quality, the auction prices during 2020 have ranged between $2,040 and $10,200, while last year the prices ranged from $1,920-$3,840.
#3 1869 – $84,000 MS66+ RD
With a small coinage of only 6,420,000 units, there are just 60 coins registered in MS65 quality or higher. This makes it a very valuable and rare year for Indian Head Cents.
An MS66+ RD (Red) coin reached the highest price of $84,000 at auction last year. This is not surprising considering that it is the only coin listed in this quality.
An MS66+ was also auctioned in 2019 and sold for $21,600.
This year (2020) we have only seen MS65 copies and they have reached values between $1,920 and $3,600.
#4 1873 Double Liberty – $69,000 MS65 RB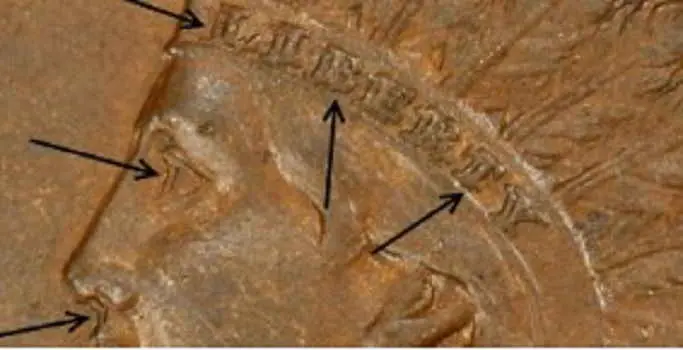 The characteristic that makes these specimens valuable and scarce is the double coinage of the obverse. It can be seen especially in the word "Liberty", and on the eye and lips of the bust.
A total of 11,676,500 units were minted this year, but not all of them are double minted. It is necessary to thoroughly review these areas of the obverse where the double minting is most evident.
Only 4 pieces are preserved with this variant in MS65 quality or higher.
The record value of this 1873 Indian Head Cent Double Liberty is held by an MS65 RB (red and brown) auctioned in 2005 at $69,000. It is important to know that in 2019, another MS65 quality only managed to reach a price of $48,000, which is a key indicator of the price drop since 2005.
In 2020 we have seen an 1873 Indian Head Cent Double Liberty MS64 RB auctioned off at $21,000, where in 2007 another similar variant reached $32,200.
#5 1877 – $149,500 MS66 RD
At only 852,500, the 1877 Indian Head Cent has the second-lowest coinage of the entire series (the lowest print run is that of the 1909 Indian Head Cent San Francisco) and the lowest of the Philadelphia Mint.
No wonder then the value of this Indian Head Cent is closely tied to the scarcity of specimens of any quality.
An MS66 quality RD was auctioned in 2007 and sold for $149,500. Two years later, in 2009, it reached exactly the same price. However, in 2019 an Indian Head Cent MS66 RD was auctioned at $114,000, which is $35,500 less than the highest price reached in 2007 and 2009.
In 2020 we have seen a copy of the Indian Head Cent MS65 RD command a price of $31,200.
#6 1888/7 – $74,750 MS63 BN
In 1888 a total of 37,489,832 units of Indian Head Cents were produced, but some units were minted over 1887 Indian Head coins.
This popular variety is precisely the one consisting of the date 1888 overlaying the 1887. To be able to distinguish this variety from the 'normal' 1888 version, you only have to look at the last digit of the date on the obverse, the second 8, where you see remains of the upper left and the lower portions of the 7.
It is an extremely rare and scarce variety, PCGS lists 5 specimens in MS60 quality or higher but only 1 specimen is known in MS63 as the highest conservation, which was auctioned in 2007 for $74,750.
#7 1909 S – $97,750 MS67 RD
Two characteristics make the Indian Head Cent 1909-S scarce. First, it is one of the few dates of the Indian Head Cent coined in San Francisco; and second, its scarce circulation of 309,000 units makes it highly sought-after by collectors.
In 2006 the PCGS's MS67 RD was auctioned off at $97,750. However, this same copy dropped to $69,000 in 2009, and to $48,000 last year (half the record price reached in 2006).
Also in 2019, MS66+ copies were seen at $14,400 and $24,675.
|   | 2020 Prices | 2019 Prices |
| --- | --- | --- |
| MS67 |   | $48,000 |
| MS66+ |   | $14,400-$24,675 |
| MS66 | $9,300-$10,869 | $7,800-$11,750 |
| MS65+ | $5,288 |   |
| MS65 | $3,480-$6,300 | $3,720-$5,520 |
History & Features of the Indian Head Cent
By 1857 the value of copper had risen so much that the U.S. Mint had to take the following steps:
The weight and diameter of the penny was cut from 10.89 grams of the Braided Hair Cent to 4.70 grams, and the new Flying Eagle penny was smaller than the half-cent (see tables).
Its composition was changed from 100% copper to only 88% copper of the Flying Eagle cent.
At the same time, the production of half-cent coins was stopped.
The coin production of the Flying Eagle Cent cost half the copper value of the previous Braided Hair Cent ("Large Cent"). However, due to design problems, production was limited to only two years, 1857 – 1858.
In 1857 James Barton Longrace designed the iconic Indian Head Cent with similar characteristics to the Flying Eagle Cent (same weight, diameter and composition), making it one of the most famous cents in American collecting, along with the Lincoln Cent.
In 1864, the Indian Head Cent's weight and composition were modified, reducing it further to 3.11 mm, with 95% copper and 5% tin. It is known as Indian Head Cent Bronze. Specimen pictured below: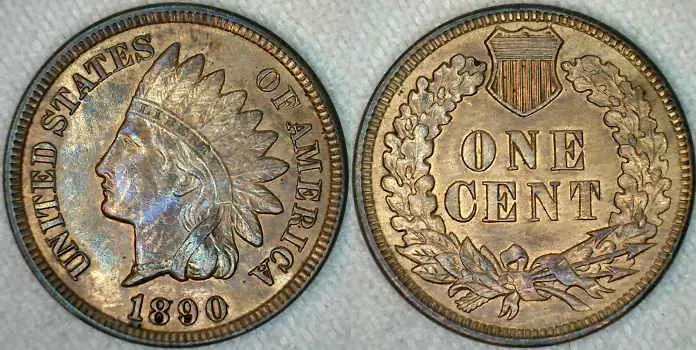 Braided Hair Cent (1839-1857)
| | |
| --- | --- |
| Diameter | 27.50 mm |
| Weight | 10.89 grs |
| Composition | Copper |
| Designer | Christian Gobrecht |
Braided Hair Half Cent (1840-1857)
| | |
| --- | --- |
| Diameter | 23 mm |
| Weight | 5.44 grs |
| Composition | Copper |
| Designer | Christian Gobrecht |
Flying Eagle Cent (1856-1858)
| | |
| --- | --- |
| Diameter | 19 mm |
| Weight | 4.70 grs |
| Composition | Copper |
| Designer | James Barton Longrace |

Indian Head Cent (1859-1909)
| | |
| --- | --- |
| Diameter | 19 mm |
| Weight | 4.70 grs |
| Composition | 88% copper and 12% nickel |
| Designer | James Barton Longrace |

The story behind its design
The design of the front side has always raised controversy as it depicts a woman with Caucasian features wearing a Native American headdress accompanied by the word "Liberty". Longrace himself defended the use of the Native American headdress as a symbol of American freedom and the indigenous race.
In the legend on the front, appears "United States Of America" and below, the date. This is bordered by dotted lines and a plain listel.
On the back, we can distinguish two varieties. The first and only type, from the year 1859, is simpler and lacks a shield. There is a crown encircled by the value "One Cent" with a dotted line and a listel. The second type, the one that followed from 1860, includes a different crown joined with a modified ribbon and arrows. It also has a shield, with the presidential seal over the value.
They were minted in Philadelphia (no mint mark) and San Francisco (mint mark "S"). The Philadelphia Mint produced most of the Indian Head Cents.
References and sources
The Official Red book 2023: A Guide Book of United States Coins.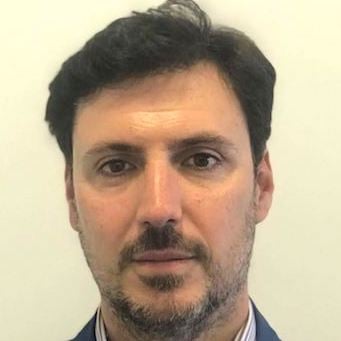 Numismatic collector with a passion for history, particularly Spanish history.
I have a degree in Business Administration and Management and numismatics studies at the
University of Murcia (Spain).