EXTERNAL SOURCES: pcgs.com ngccoin.com coins.ha.com
INDEPENDENT SOURCES: usmint.gov money.org
Ed. note: This article is periodically updated to reflect the current price of most valuable coins.
Since the 1944 Lincoln Penny was minted in large quantities, it does not have a high value if it is not a high-grade piece or contains some errors or variants that you can see below.Want to know what makes a 1944 wheat penny rare?
1944 Wheat Penny value chart
Coleccionistasdemonedas.com Estimated Value of 1944 Wheat Penny is:
| | | |
| --- | --- | --- |
| 1944 Penny | Graduation | Price reached |
| 1944-S Steel | MS66 | $373,750 |
| 1944 Steel | MS64 | $158,625 |
| 1944-D Steel | MS63 | $115,000 |
| 1944 | MS68 RD | $11,400 |
| 1944-D/S | MS67+ | $8,400 RD |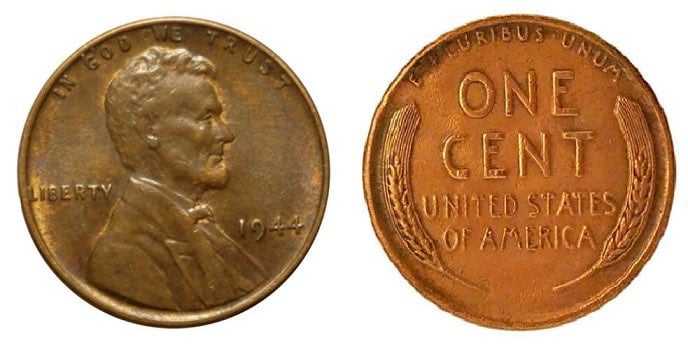 At the beginning of the 20th century, specifically in 1909, the coinage of the Lincoln Penny was started… the famous one-cent coin designed by Victor David Brenner (VDB).
How to know if you have a 1944 Wheat Penny?
The obverse of the Wheat Penny from 1944 represents the right-facing bust of President Lincoln and has remained virtually unchanged for over 100 years. On the left of the bust, the word "Liberty" appears, above it the phrase "In God We Trust" and in front of the bust the date can be seen and under it the mint mark, only for the cases of Denver and San Francisco. On the back, most of it is occupied by the value in letters "ONE CENT" and "United States Of America" which was flanked until 1958 by two ears of wheat as a sign of prosperity (hence they are also known as "Wheat" Pennies). At the top, we find the phrase "E Pluribus Unum".
The importance of its composition
It was manufactured with a composition of 95% copper and 5% zinc, a diameter of 19 mm and a weight of 3.11 grams. Although during its long history it has changed several times in composition. The 1944 Lincoln Penny is known for being the year of the return to the manufacture of pennies, with 95% copper. Previous year pennies were coined with low quality steel with the aim of allocating as much copper as possible for the war industry of World War II.
It is hypothesized that some 1944 Lincoln Pennies were made using used bullet casings.
Is the 1944 Lincoln Penny scarce? Mintmarks
No, the total production of the 1944 Lincoln Penny exceeded two billion pieces. The mints that minted the 1944 Lincoln Penny were:
Philadelphia (no mint mark): 1,435,400,000 units
Denver (mint mark "D"): 430,578,000 units
San Francisco (Mint "S" brand): 282,760,000 units
1944 was the first year that the Philadelphia Mint minted more than one billion Lincoln Pennies, specifically 1,435,400,000 specimens. The mint that produced the fewest units was San Francisco's. The 1944 Lincoln Penny was produced only for circulation, no copies were made in Proof quality or destined for Mint Sets. 
How much is a 1944 penny worth?
How do I know if my 1944 penny is valuable? Search for your coin among this list of valuable coins and find out if it is one of the most sought after by coin collectors. Just check below to see if you have any that look like any of these coins.
#1 1944-S Steel – MS66 – $373,750
What's the value of a 1944 S wheat penny? The 1944 San Francisco Steel Lincoln Penny is the rarest and scarcest of the three mints.
We only know two specimens. The 1944-S Steel Lincoln Penny with the best graduation belongs to the Simpson Collection and it is a coin in MS66 quality that reached $373,750 in 2008. The other known 1944-S Steel Lincoln Penny is an XF40 that sold for $49,200 at an auction in 2018.
#2 1944 Steel – MS64 – $158,625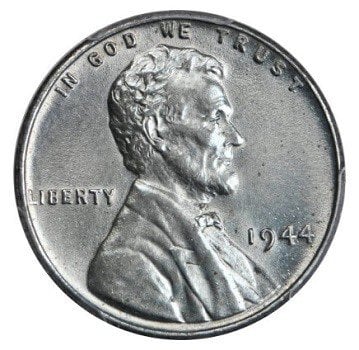 The 1944 Steel Lincoln Penny is a very rare and sought-after coin. The origin of these rare steel 1944 Lincoln Penny steel lies in the demand for copper and nickel as warfare material, two of the materials needed to produce the Lincoln Penny. So in 1943, it was decided to stop making "regular" Lincoln Pennies (which was composed of 95% copper and 5% zinc) and to make them from low-grade zinc-coated steel. This was not the only difference, but it also modified its weight due to the change in the composition of the different materials, going from 3.11 grams to 2.70 grams. However, the following year, 1944, they were again minted in copper and zinc.
So why is the 1944 Lincoln Penny coined in steel?
Well, it's not clear. There are three most probable hypotheses: 1) The unminted blank 1943 Steel Lincoln Penny coin blanks that were left over were used for the year 1944. 2) The blank coin blanks were put by mistake into the hoppers that minted the coins with the 1944 design. 3) Coin blanks intended for the minting of two Belgian Francs were used since the United States Mint had a contract for their manufacture. In fact, the two Belgian Francs had the same characteristics as the 1944 Steel Lincoln Penny, as you can see.
| | |
| --- | --- |
| Composition | Zinc-plated steel |
| Weight | 2.70 g |
| Diameter | 19 mm |
PCGS has a total of 7 Philadelphia Mint graduates in qualities higher than MS60 only. The highest value achieved by a 1944 Philadelphia Steel Penny was for a copy belonging to the Simpson collection in MS64 grade, which in 2013 was auctioned for $158,625. The average auction prices in MS conservation are between $30,550 and $158,625 of the already mentioned specimen. In AU graduations the price range is between $5,875 and $34,500.
#3 1944-D Steel – MS63 – $115,000
Since, unlike the Philadelphia Mint, the Denver Mint was not minting steel coins for Belgium, the 1944 Denver Steel Lincoln Penny is much scarcer and harder to find than the Philadelphia ones. Due to the shortage of specimens, it is very easy to keep track of the pieces that are coming out to auction of the 1944-D Steel Lincoln Penny.
The specimen that reached the highest value in an auction was a MS63 graduation specimen from the Simpson Collection that was sold in 2007 for $115,000.
Two other MS63 pieces were auctioned in 2013 for $79,313 and $82,250. At MS62 graduation in 2016, one copy achieved $54,050 and in 2018 another one achieved $52,800.
#4 1944 – MS68 RD – $11,400
The 1944 Philadelphia Lincoln Penny is not a hard coin to find, so its value is not too high. However, if we are talking about high-quality pieces, the scenario changes. Thus, for example, during the years 2019 and 2020 we have seen in the auction market several specimens in different qualities with the auction price below:
GRADE
PRICES
2020
2019
MS68
 
$11,400 / $1,560
MS67+
$615-$336
$360-$312
MS67
$264-$109
$126-$109
MS66+
$35
 
MS66
$31
$35-$19
  From the above information, we can note that the prices of high quality 1944 Lincoln Penny have increased in the year 2020 with respect to the year 2019. This is especially important in the MS67+ and MS67 grades where the auction price of 2020 is double that of 2019. This is not the case in the lower MS66+ and MS66 graduations where prices have hardly changed in the period 2019-2020.
#5 1944-D/S – MS67+ RD – $8,400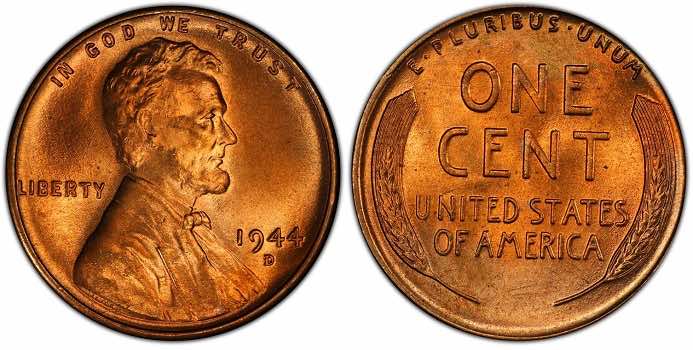 This is a rare variation produced by a reactivation of the Denver Mint brand over the San Francisco brand. This is because two dies were sent from the San Francisco Mint to Denver on the front of the 1944 Lincoln Penny. Once the coin was minted, the letter D (Denver mint mark) was re-stamped over the S. Below is an image in which you can clearly see the lines of the 'S' under the Denver mint mark.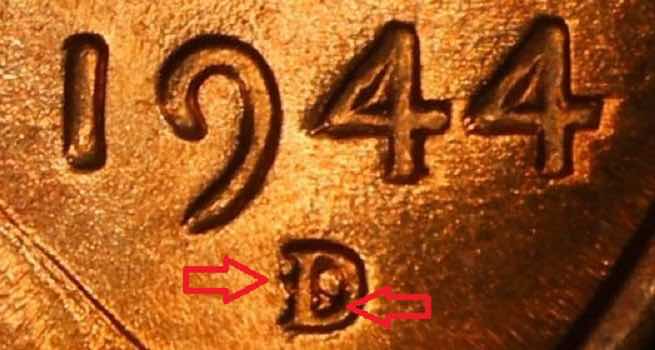 The best specimen graduated by PCGS is an MS67+RD, the only one graduated in this quality, which was auctioned in August 2019 at $8,400.
During 2019 and 2020 we have seen other 1944 D/S Lincoln Pennies in MS66 graduation at auction. In 2019 one MS66 went to $720 and in 2020 two different MS66s closed at $1,020 and $1,469.
Rare and valuable variants of the 1944 Lincoln Penny
In addition to the specimens shown above, there are very rare and valuable 1944 Lincoln Penny minting errors or failures that are sought after by collectors.
Offset coinage
Depending on the displacement and conservation that the 1944 Lincoln Penny presents, its value will be greater. The greater the coinage displacement, the more value it will have, but we must take into account that this rule is not fulfilled if the displacement makes key features such as the date and the mint not visible when it is left out of the cospel. The image below shows a 1944-S Lincoln Penny with a 5% displacement and another Lincoln Penny with almost a 50% displacement that prevents the date and mint from being appreciated.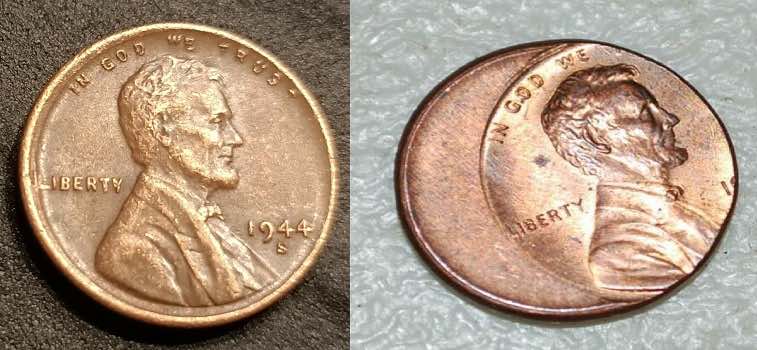 The approximate value of this type of minting error can vary from $36 to $160.
Silver pennies 1944:
Coinage on Silver Dime
There are as minting errors for the 1944 Lincoln Penny the use of silver coin blanks for the ten-cent coins. This error is less valuable than the steel coin blanks errors.
In 2016 a copy of the Simpson Collection in conservation AU53 reached $3,995. However, this same copy in 2006 was sold for $4,887.
That is to say, in addition to minting errors and other variants, whenever possible we should look for high quality 1944 Lincoln or Wheat Reverse Penny which are the most valuable (remember that among the three mints more than two billion copies were minted). There are key types from this year such as the 1944 Steel Penny which will always be valuable regardless of its graduation (obviously the higher the graduation the greater the value) and which was minted at all three mints. Here's a quick recap of 1944 wheat penny value
| | | |
| --- | --- | --- |
| 1944 Penny | Graduation | Price reached |
| 1944-S Steel | MS66 | $373,750 |
| 1944 Steel | MS64 | $158,625 |
| 1944-D Steel | MS63 | $115,000 |
| 1944 | MS68 RD | $11,400 |
| 1944-D/S | MS67+ | $8,400 RD |
Why is the 1944 wheat penny with no mint mark so valuable?
The 1944 wheat penny is ordinary, with a total mintage of over a billion coins across all three mints (Philadelphia, Denver, and San Francisco). However, the 1944 wheat penny with no mint mark is more valuable than the others.
This is because, in 1944, the Philadelphia Mint accidentally omitted the mint mark "P" on some of the coins it produced. As a result, these coins became known as "1944 Steel Cents" or "Steelies" because they appeared similar to the 1943 steel cents, which were produced to save copper for the war effort.
While the 1944 steel cents are not made of steel, they are made of a zinc-coated steel alloy, which makes them unique. The 1944 steel cents with no mint mark are rare, with an estimated mintage of only about 20 to 40 coins. This rarity has led to high demand from collectors, which has driven up the value of these coins. As of May 2023, a 1944 steel cent with no mint mark in circulated condition can be worth thousands of dollars, while an uncirculated example can be worth tens of thousands.
How much is a 1944 wheat penny worth without mint mark?
A 1944 wheat penny without a mint mark can be worth significant, but the value will depend on the coin's condition.
As I mentioned, the 1944 wheat penny with no mint mark is a rare variety, with an estimated mintage of only 20 to 40 coins.
Here are some approximate values for a circulated 1944 wheat penny without a mint mark as of May 2023:
Good: $5,000 to $7,500
Fine: $10,000 to $15,000
Very Fine: $25,000 to $35,000
Extremely Fine: $50,000 to $75,000
Uncirculated: $100,000 to $150,000 or more
References and sources
The Official Red book 2023: A Guide Book of United States Coins.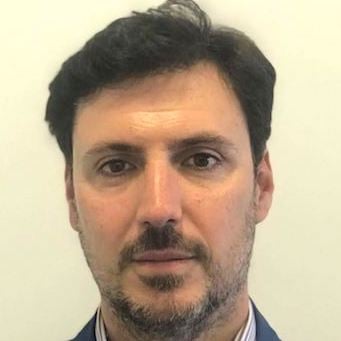 Numismatic collector with a passion for history, particularly Spanish history.
I have a degree in Business Administration and Management and numismatics studies at the
University of Murcia (Spain).