EXTERNAL SOURCES: pcgs.com ngccoin.com coins.ha.com
INDEPENDENT SOURCES: usmint.gov money.org
Ed. note: This article is periodically updated to reflect the current price of most valuable coins.
In American numismatics, the term "Wheat Penny" or "Wheat Reverse Penny" refers to the one-cent coin featuring the image of Lincoln, minted between 1909 when it was first produced, and 1958. This nickname is derived from the design on the coin's reverse during those years, which depicted two ears of wheat encircling the denomination. Over its more than a century of existence, the design on the reverse of the Lincoln or Wheat Reverse Penny has undergone various modifications.
1945 Wheat Penny Value Chart
Coleccionistasdemonedas.com Estimated Value of 1945 Lincoln Wheat Penny is:
In average grades can be found between $0.15 and $0.42.
In high grades (MS67, MS68), Proofs, Uncirculated (MS+) or Mint Condition can be Worth until $14,400.
The highest price reached in 2023 was for a 1945 1C Red with an MS67+ quality, which achieved $3,480 in May.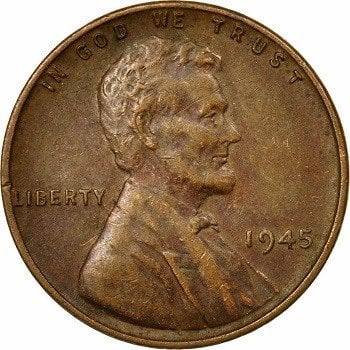 How to check if you have a 1945 Wheat Penny?
On the back of the 1945 Lincoln Penny appears, from top to bottom, the following: "E-PLURIBUS-UNUM", the value in letters "ONE CENT" and "United States of America"; all surrounded by the two ears of wheat as a symbol of prosperity.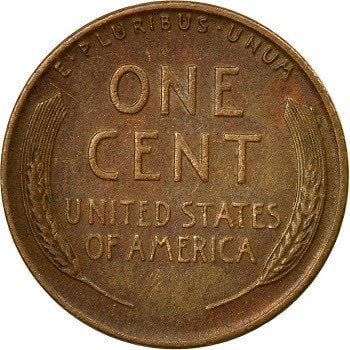 On the contrary, the obverse side has remained almost unchanged since its inception. It shows the bust of President Lincoln looking to the left, above "In God We Trust", on the left appears the word "Liberty" and on the right the date 1945, plus the mint mark. The 1945 Lincoln Penny was designed by Victor David Brenner. Its composition is 95% copper and 5% zinc. The weight is 3.11 grams and its diameter is 19 mm.
Where is the mint mark on the 1945 Lincoln Penny?
The mint mark on the Lincoln Penny is on the front, just below the date, which is to the left of the Lincoln bust. Regarding the mint mark:
If only the date appears, the coin belongs to the Philadelphia Mint.
If an "S" appears under the date, the mint is San Francisco, and
If a "D" appears, the mint is Denver.
What's the rarity of 1945 lincoln penny?
The 1945 Lincoln Penny is not a scarce coin, rather it was minted in large quantities during the year 1945. As for the quantities minted in each mint, they are shown below:
Philadelphia: 1,040,515,000
Denver: 266,268,000
San Francisco: 181,770,000
This year of 1945, no high-quality pieces were coined at Proof. In total, among the three mints, almost 1,500,000,000 specimens of the 1945 Lincoln Penny were minted, with the Philadelphia Mint being the one that produced the most units, followed by Denver and San Francisco, the latter two with somewhat more similar productions. The 1945 Lincoln Penny from the Philadelphia Mint is much easier to obtain in medium qualities and less valuable. The Denver and San Francisco units are more valuable in the same qualities as the Philadelphia units. For our investment and collection, it is important to know that the most demanded and valuable Philadelphia specimens are those with a graduation higher than MS66, since there are numerous specimens in MS65 and lower graduation.
Tip: when looking for a 1945 Lincoln Penny try to get the RED (RD) type which are usually better valued in the market than the RED & BROWN (RB) and BROWN (BN) types. 
What are the most valuable 1945 Lincoln Pennies?
Below we show some of the 1945 Lincoln Penny coins with the highest prices reached in sales and auctions during the last few years. At the end, you can check out valuable mistakes and rarities of 1945 Lincoln Penny that can be found.
#1 1945-D – MS68 RD – $14,400
Something similar to what happened with the 1945 Lincoln Penny RED occurs with the specimens of the Denver Mint, much less prolific than Philadelphia, in the sense that there are thousands of specimens in the market with MS66 quality or lower but there are not as many units in higher graduation. Thus, there is only one MS68-rated RED copy that was auctioned at $14,400 in 2019. This single copy also sold in 2015 at auction for $14,100. In other words, in 5 years it has not seen much variation in price. In inferior quality, their prices are significantly lower. In graduation MS67+ RD several units have appeared this past year of 2020 getting auctions in the interval $324-$625.
#2 1945 – MS67+ RD – $4,465
With 1,040,515,000 units minted in Philadelphia, you would think that finding a high-quality mint this year would be easy enough, but it is not. Most of the 1945 Lincoln Penny RED's do not have a graduation higher than MS66. In fact, in MS66+ quality, PCGS has graduated 70 copies, in MS67 142 copies and in MS67+ only 18. The highest sales value of a 1945 Lincoln Penny RED was reached in 2015 when an MS67+ RD was auctioned for $4,465. In 2019, several MS67+ RED copies have been auctioned off for between $1,680 and $4,320. NGC has 293 copies of 1945 Lincoln Penny RED on MS67 and only 1 copy in MS68. This single MS68 RD copy has been auctioned several times, with prices ranging from $3,738 to $4,313.
#3 1945-E – MS67+ RD – $2,174
San Francisco is the scarcest mint of the three. In 2015, a 1945-S Lincoln Penny MS67+ RED was sold for $2,174. In 2019, copies at the same graduation were sold for $288-396. In total, PCGS has 68 copies of the 1945-S Lincoln Penny RD in MS67+ quality.
#4 1945 – MS67* RB – $575
The 1945 Lincoln Penny from the Philadelphia Mint in Red & Brown MS67* quality finished in 2011 for $575. In NGC's MS67 quality, copies were sold in 2013 and 2014 for between $51 and $66.
#5 1945 DDO – MS64 RD – $395
The 1945 Lincoln Penny DDO (Double Die Obverse) type is an error variant, to call it what it is, that occurs when a double die is made at the time of coining. This can occur on the obverse, the reverse, or both. In this case, we are talking about the obverse.
To be able to observe this double coinage on the front, it is essential to look at the letters of the legend as this is the area where it is best appreciated.
This error, which for other types and dates are easy to find, for the 1945 Lincoln Penny it is a valuable and very rare error. It has appeared very few times on sale so we have no way to value this piece monetarily, although a 1945 Lincoln Penny DDO in conservation MS64 RD was sold on eBay for $395.
#6 1945-D – MS64 RB – $243
1945 Lincoln Penny Denver RED & Brown sold in 2020 for $243.
Which varieties of the 1945 Lincoln Penny errors are valuable?
We show some pieces that can become valuable based on their quality but also, and above all, the type of error involved. It is not a closed list in the sense that it could be that a copy falling into our hands presents some of these errors, if we are able to detect them.
1945 Lincoln Penny Double Struck, Second Strike, 15% Off Center
This is a Philadelphia copy that has three types of errors or variants in the same currency. This piece was auctioned at the AU58 graduation in December of last year (2020) reaching a value of $480.
1945 Lincoln Penny Struck on Netherlands East Indies 1/2C
This is the Lincoln Penny coined on a considerably smaller piece from ½ C of the Netherlands East Indies that leaves out of the cospel the obverse legend "In God We Trust". Another important difference is in their weight. While the 1945 Lincoln Penny weighs 3.11 grams, this error only weighs 2.3 grams. An MS64 RB was auctioned in December 2020 for $421. In 2019, several specimens minted on these coin blanks came up for public auction. Their auction price was:
One MS64 BN reached $930 in 2019.
In graduation MS65 BN was auctioned off at $372.
Between an AU50 and MS62 graduation, the prices were between $216 and $288.
Key aspects of the 1945 Lincoln Penny to consider
As a conclusion we recommend first to look for high qualities of the 1945 Lincoln Penny, starting from MS66 for specimens from the Philadelphia Mint and in MS64 qualities or higher for coins minted in Denver and San Francisco.
Generally, coins with RED coloring are more in demand and more valuable than the other two types (Brown or Red & Brown).
It is worth observing the general aspect of the 1945 Lincoln Penny, stopping especially in the legends and borders in case it could present a double coinage, a reactivation, a displacement, etc. that could provide it with a superior monetary value.
References and sources
The Official Red book 2023: A Guide Book of United States Coins.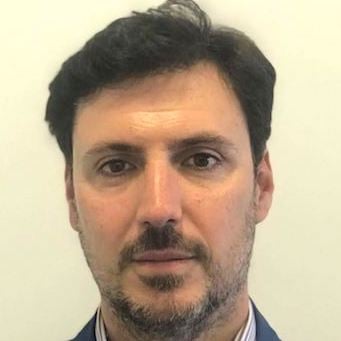 Numismatic collector with a passion for history, particularly Spanish history.
I have a degree in Business Administration and Management and numismatics studies at the
University of Murcia (Spain).