EXTERNAL SOURCES: pcgs.com ngccoin.com coins.ha.com
INDEPENDENT SOURCES: usmint.gov money.org
Ed. note: This article is periodically updated to reflect the current price of most valuable coins.
The one-cent coins were issued in 2009 as a tribute to a key president in U.S. history, Abraham Lincoln, in recognition of the bicentennial of his birth and the centennial of the first issue of the Lincoln cent. Thus, these pieces show the four main aspects of the President's life on their reverse designs, while the obverse side preserves the traditional portrait of Lincoln that has been used since 1909. 
As coin collectors know, the wear of the coin will determine its price. In this case, we are talking about very large mintages (for example, 284,400,000 units of the Birth and Early Childhood variant alone); we will need an MS-65 state (or PR 65 in proof cases) to consider our coin collectible.
Key Takeaways
The 2009 D Penny Lincoln Presidency auctioned by eBay in an MS68 quality and RD patina fetched $4,700 in October 2016 (reference). 

Evaluating the 

amount of wear

of your 2009 Lincoln is usually the key to determining the coin's market value. In some particular cases, rarities or errors may raise the price.

Its value in circulated condition, regardless of series, is only worth its face value of $0.01.

Mosts 2009 pennies in ordinary grades range from 20 cents or even less, but there are some special cases (see below).
Rare 2009 Penny Value Chart
Coleccionistasdemonedas.com Estimated Value of 2009 Penny is:
List of 2009 Penny value ordered by condition
Lincoln memorial penny values
MS64
MS65
MS66
MS67
MS68
Early Childhood (2009 p penny)
$6-7
$10-12
$20-45
$200-850
–
Early Childhood D (Denver)
$6-7
$10-12
$20-45
$450
–
Formative Years (Philadelphia)
$6
$10-12
$16-85
$450-950
$3,500
Formative Years D (Denver)
$4-5
$8-12
$16-35
$210-850
$3,500
Professional (Philadelphia)
$6-7
$10-12
$20-45
$300-475
$2,250
Professional D (Denver)
$6-7
$10-12
$22-55
$700
–
Presidency (Philadelphia)
$6-7
$10-12
$20-65
$225-475
$4,700
Presidency D (Denver)
$6-7
$10-12
$20-45
$275-500
$2,650
WHAT YOU WILL LEARN
its history,
price differences by mint mark and 
rare errors that make a 2009 Penny more valuable.
Want to know the real value of your Lincoln cent? Read on to find out more…

A little history about 2009 Lincoln bicentenial error penny (rare)
Since 1959, the backs of U.S. pennies have shown the Lincoln Memorial, however, in 2009 they decided to make a series of four designs commemorating the President's bicentennial.
These reverses would represent various stages of Abraham Lincoln's life to celebrate the anniversary. However, in 2010 they did not return to using the same reverses as until 2008, but instead used what is currently the penny design, the reverse shield, which contains the motto "E PLURIBUS UNUM" at the top of the reverse.
The bust of the president still appears, of course, as it has since 1909, even though the coin is not composed of the same metals. In the case of the year 2009, our penny has a weight of 2.50 grams and is made of copper-coated zinc.
2009 Penny set: Composition and Satin Finish variety
These cents were issued in two different finishes: on the one hand, those intended for commercial circulation had the copper-plated composition in use since 1982. On the other hand, the variety included in the satin-finish collector sets has the same composition as the 1909 cents (95% copper and 5% tin and zinc).
The satin-finish of the 2009 Lincoln can fetch the highest prices for coin collecting.
What are the 2009 Abraham Lincoln Penny designs?
As previously mentioned, the series covers certain stages of President Abraham Lincoln's life on his 200th birthday. U.S. Mint coin designs are intended to be as historically accurate as possible. There are four:
2009 Lincoln Penny – Birth and Early Childhood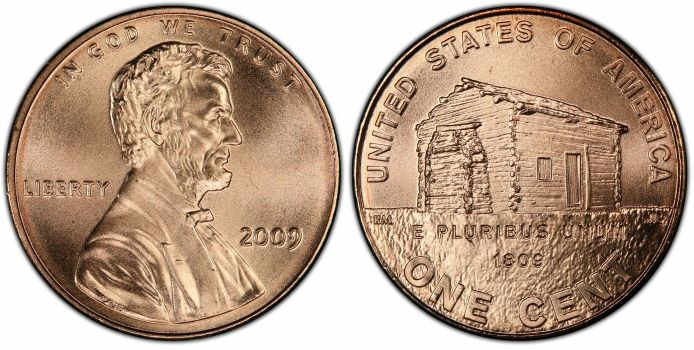 This first design dedicated to Lincoln's birth and childhood showed a log cabin on the reverse and was designed by Richard Masters, and sculpted by Jim Licaretz. This log cabin is like the one where the president was born in 1809, on the Kentucky frontier. It is a sign of the humble beginnings of what would become the 16th president of the United States.
2009 Lincoln Penny – Formative Years
The second stage of Lincoln's life represented in this series of pennies is his education. The president in southern Indiana, his new home, was engaged in plowing and logging, so he could not learn in school. Lincoln once worked as a rail-splitter. However, he read everything he could to educate himself, as depicted on this coin, where we see the president with a book sitting on a cut log. Charles Vickers created the design of this coin.
2009 Capital penny – Professional Life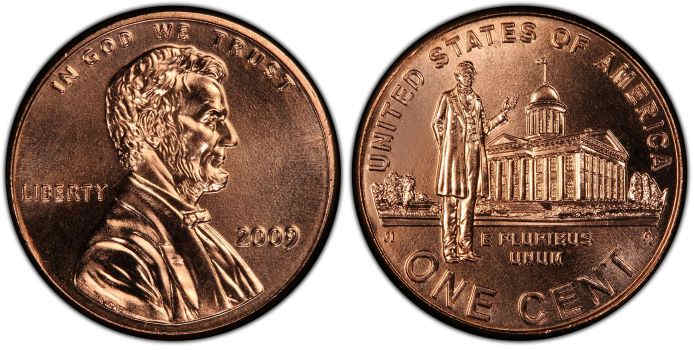 The penultimate stage depicted is Abraham Lincoln's working life after moving with his family to Illinois, where he also began to take an interest in politics. In fact, on the coin, the future president can be seen in front of the State Capitol of Illinois statehouse, recalling his work as a lawyer and politician before being elected president in 1861, after having been elected in 1834 to the State General Assembly and in 1846 to the U.S. House of Representatives. As a law professional, Lincoln was designed by Joel Iskowitz and sculpted by Don Everhart.
2009 Lincoln Penny – Presidency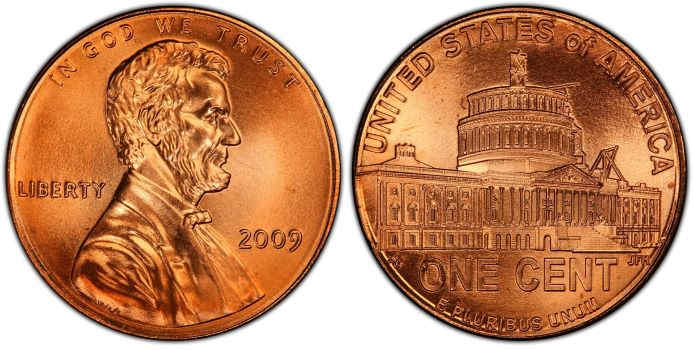 Of course, the most important period for which Abraham Lincoln is remembered is his presidency between 1861 and his tragic assassination in 1865. To represent this, the reverse of the coin shows the dome of the U.S. Capitol still under construction, as it was at the time he was president during the Civil War. During this war, as is well known, the president declared the slaves free, a fact for which he is most remembered. This reverse was designed by Susan Gamble and sculpted by Joseph Menna.
As for the obverse, the design of the pennies since 1909 is maintained, with the bust of Lincoln facing right under the motto "IN GOD WE TRUST", with the word "LIBERTY" to his left and the year of mintage to the right. In the case there is a mintmark, as we will see below, it would be under the year.
Importance of the 2009 pennies' Mint mark
The mints are the places of manufacture of a coin. Each mint produces a different quantity of coins, and this can vary the price greatly in certain cases. Next to the quality of the coin's preservation, the place of manufacture of the coin is one of the most important factors to consider.
2009 Lincoln D Value
In the case of these pennies, there are only two mints marks, Philadelphia Mint and Denver Mint. In the first case, there is no marking on the coin, but the coins produced in Denver have a letter "D" under the year of manufacture, on the obverse.
How many 2009 pennies were made of each design at each mint?
Lincoln bicentennial – Philadelphia
2009 Lincoln bicentennial Early Childhood: 284,400,000 units.
2009 Lincoln bicentennial Formative Years:  376,000,000 units.
2009 Lincoln bicentennial Professional: 316,000,000 units.
2009 Lincoln bicentennial Presidency: 129,600,000 units.
2009 D Penny – Denver
2009 Lincoln bicentennial Early Childhood: 350,400,000 units.
2009 Lincoln bicentennial Formative Years: 363,600,000 units.
2009 Lincoln bicentennial Professional: 336,000,000 units.
2009 Lincoln bicentennial Presidency: 198,000,000 units.
As can be seen, these coins are quite abundant, although there are some differences between mints. More important for the value, in this case, is the difference in the quantity of the types. But above all the quality of such a common coin is what makes the difference between a very low or surprisingly high price.
Next, we will look at the best way to know the coin's grade.
How do I know the quality of my 2009 D Penny?
The higher the grade, the higher the price increases exponentially, since it is a factor of great importance – especially in coins that tend to circulate a lot, as is the case of cents. To know the state of conservation of the coin we own or want to buy we need to have an expert eye that comes with time and experience. That is why it is not a bad idea to resort to a TPG (Third Party Grading Service). These are companies dedicated to evaluating and providing a score to our coins according to their condition.
An unwritten law within coin collecting states that a TPG must grade any coin over $500.
In addition, they certify the authenticity and encapsulate the coin for security purposes, both for its preservation and to facilitate its sale. 
Rare pennies from 2009
This variety of Lincoln pennies does not count with a big error list. It is quite rare to find a coin with a minting flaw. It is, therefore, a factor that greatly increases this coin's price. Although there are no exclusive errors characteristic of these 2009 coins, we can find some specimens with this error in common:
2009 Penny Error Double minting (very rare)
We find on both the reverse of the 2009 Penny Lincoln Formative Years and the Lincoln Early Childhood a rare and valuable error, which is the double minting. In other designs, it may appear, but in these two it is more characteristic.
This consists of striking the coin twice at the time of manufacture, which gives it a thicker or double design.
In the case of the 2009 Penny Lincoln Formative Years, we can appreciate the error in Lincoln's hands, which are somewhat deformed and a bit double due to the error.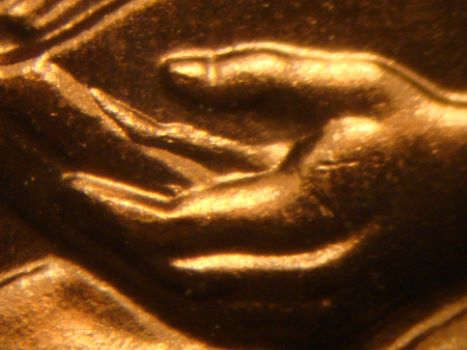 In the Lincoln Early Childhood, this same type of error can be seen in the thicker-than-usual cabin logs.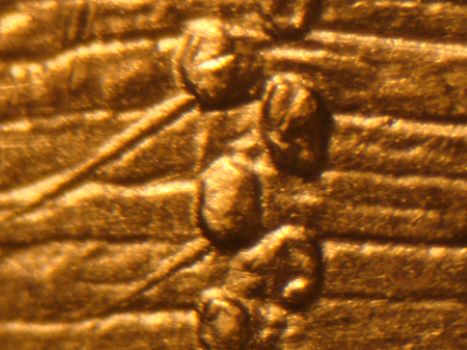 The price of such an error can cost between $30 and $50 in medium-high quality, as it makes any 2009 penny very rare.
Conclusions
As we said at the beginning, pennies are one of the most collected American coins in the world – you can get your hands on all four 2009 penny designs to commemorate Lincoln's bicentennial for little money in humble grades, or for a few hundred dollars with a gradation that will impress your fellow numismatic hobbyists.
Being so abundant, you will not have trouble finding them, and compared to other series or other coins, they are really affordable for an average pocket.
What are you waiting for to get your hands on this small collection of 2009 pennies? A common coin in quantity, but rare for commemorative purposes.
Here's a quick recap of  2009 Lincoln penny value:
| 2009 Penny Lincoln | MS64 | MS65 | MS66 | MS67 | MS68 |
| --- | --- | --- | --- | --- | --- |
| Early Childhood (Philadelphia) | $6-7 | $10-12 | $20-45 | $200-850 | – |
| Early Childhood D (Denver) | $6-7 | $10-12 | $20-45 | $450 | – |
| Formative Years (Philadelphia) | $6 | $10-12 | $16-85 | $450-950 | $3,500 |
| Formative Years D (Denver) | $4-5 | $8-12 | $16-35 | $210-850 | $3,500 |
| Professional (Philadelphia) | $6-7 | $10-12 | $20-45 | $300-475 | $2,250 |
| Professional D (Denver) | $6-7 | $10-12 | $22-55 | $700 | – |
| Presidency (Philadelphia) | $6-7 | $10-12 | $20-65 | $225-475 | $1,300 |
| Presidency D (Denver) | $6-7 | $10-12 | $20-45 | $275-500 | $2,000 |
References
Numismatic collector with special interest in the history of Spain.
Graduated in Labor Relations and Human Resources. I have been trained in numismatics by the University of Murcia. I am a specialist in Spanish currency (from the Catholic Kings to today), euros and large silver modules.