EXTERNAL SOURCES: pcgs.com ngccoin.com coins.ha.com
INDEPENDENT SOURCES: usmint.gov money.org
Ed. note: This article is periodically updated to reflect the current price of most valuable coins.
The 1953 Lincoln Wheat Penny belongs to the first Lincoln cents series, minted between 1909 and 1958. That same year changed the reverse design.
The famous Victor David Brenner designed this coin with a face value of 1 cent with a weight of 3.11 grams and 19 millimeters in diameter. It was composed of 95% copper, and the remaining 5% is an alloy of zinc and tin.
Do you want to know its current market price? As far as we have been able to ascertain, it is estimated that the value of the 1953 Wheat Penny D is as follows: 
| Variety | MS61 | MS66 | MS67 | MS67+ |
| --- | --- | --- | --- | --- |
| RED | $15 | $70 | $1,000 | $5,000 |
| R&B | $10 | $35 |   |   |
| BN | $9 | $30 |   |   |
| D/D | $25 | $200 | $3,525 |   |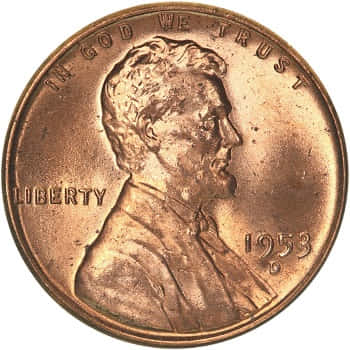 First of all, check the mint mark
The production of this penny was divided among three different mints: Philadelphia, Denver, and San Francisco. Their productions were as follows:
No mint mark: Philadelphia Mint, 256,755,000 units for circulation and another 128,800 units in proof quality (uncirculated).
D mint mark: Denver Mint , 700,515,000 units.
S mint mark: San Francisco Mint, 181,835,000 units.
As you can see, of the total production of the Lincoln wheat reverse, which exceeded one billion units, the Denver mint was the most productive, with 62%. Philadelphia was the second with the second highest number of units minted with 22% (not taking into account the proof units it also produced), and San Francisco was the one that struck the least number of units, 16% of the total.
However, the Lincoln penny from the Philadelphia mint was the most carefully minted of all, so when evaluating the cents from these three mints, we cannot demand the same quality in a Lincoln penny from Philadelphia as one from Denver or San Francisco.
How much is a 1953 penny worth?
When valuing 1953 wheat worth, you should always keep in mind the following key points:
Philadelphia was the most productive mint, but their mintages were better and of higher quality. It would be best if you were very discerning when looking for a 1953 Reverse penny from this mint.
As discussed in other articles, the patina of these pieces determine wheat penny worth. Since they have 95% copper content, are subject to price differences. It will always be better a RED tone (RD), then a RED & BROWN tone (RB), and finally, as the least valued by collectors, the BROWN (BN).
Another peculiarity you should remember is that the 1953 Wheat Reverse penny from San Francisco and Denver will always be scarcer than those produced at the Philadelphia Mint.
At the end of this article, we list the most collectible, and therefore much more valuable, Lincoln penny errors.
What are the most valuable 1953 pennies today?
#1 1953 PR67 RD DCAM – $10,869
As mentioned above, in proof conditions (mint states), the 1953 penny was only produced at the Philadelphia Mint, with a total production this year of 128,800.
What's the difference between CAM and DCAM quality?
The 1953 proof in Cameo and Deep Cameo finish are very difficult to obtain. In fact, in Cameo (Cam) quality, it is the third scarcest year of the Wheat Penny series. In Deep Cameo (Dcam), they are even lower and more valuable.
So much so that in 2021 a 1953 PR67 RD DCAM sold for $10,869 at auction at Legend Rare Coin Auctions.
#2 1953-D MS67+ RD – $4,560
The record auction sale in recent years is held by a 1953-D MS67+ RD Lincoln cent that sold this year for $4,560 at Heritage. This price is easier to understand because PCGS only has nine examples registered in MS67+ RD.
Last year a specimen of the same condition fetched $3,480 at Heritage.
We can get our hands on a 1953-D MS67+ RD Penny at upcoming auctions. We have at Great Collections this Omaha Bank Hoard and Red Copper Collection that is due out in January of the next year, 2023.
And also, this December 2022 Heritage "Top-Grade CAC Registry Contender" ex from the Bender Collection that is already bid at $2,100.
#3 1953 MS67 RD – $3,720
The last year 2021, a Lincoln penny MS67 RD graded by PCGS fetched $3,720 at Stacks Bowers auction house.
Other examples in equivalent condition by PCGS were auctioned in 2021 for $1,680 and $1,980. Meanwhile, an NGC example went for $975.
In 2022, a Wheat cent MS67 RD from PCGS sold for $2,400 (source)
In our eagerness to help you as much as possible in your collection/investment, from www.coleccionistasdemonedas.com, we warn you of the next auction appearances of penny from 1953 MS67 RD specimens in January 2023. 
One specimen appears in the Great Collections auction house, and the specimen in question belonged to the Jerald L. Martin Collection and the Red Copper Collection.
Another specimen appears this December at Heritage Auction House, which describes it as a "Rare Top-Grade CAC Coin" that belonged to the Bender Collection.
#4 1953-D/D RPM MS67 RD – $3,525
Highly valued variant by collectors and investors of the 1953-D Penny is the one with a double mintmark, which would be the "D" below the date for this mint.
In the specimen auctioned in 2020 for $3,525 in MS67 RD quality (shown in the image above), the double mintmark is visible, being more evident on the top of the "D".
#5 1953-S MS67+ RD – $940
One of 38 examples held by PCGS of the 1953-S Lincoln wheat penny in MS67+ was sold in 2020 for $940 at auction by Legend Auctions. Two years later, already in 2022, another specimen in identical graduation has been auctioned at $925 at David Lawrence.
This December, an MS67+ RD specimen appears in Heritage exemplar from the Bender collection that already has bids of $460.
Our attention has been drawn to a lower quality MS67 RD specimen that, in May of this year, 2022, was auctioned for $780, quadrupling previous auctions of similar examples.
What are the most sought-after 1953 Lincoln wheat pennies minting errors by collectors?
Well, just as with other years' Lincoln cents, for 1953 Wheat Penny errors, we also have valuable, collectible, and highly sought-after minting errors.
Many collectors only collect Lincoln cents with mint errors.
Of all the errors we have seen on other Wheat cents, such as broad struck, off-center, etc., the most valuable mistakes for the 1953 Lincoln cent are those where another coin has been used for the mintage that does not correspond to the cent piece.
And they are still valuable even though they are common to find for sale and at auction, so they can be a good investment.
Let's take a look at some recent examples:
#1 Error 1953 Lincoln cent minted on a 10-cent coin blank
A common error on Lincoln cents consists of using a blank from a 10-cent coin for the mintage.
One such 1953 Lincoln Wheat Penny MS62 BN graded by NGC appeared in 2021 and was auctioned at Heritage for $2,520.
This other specimen from the San Francisco mint also appeared in Heritage last year. Graded XF4 from NGC, it fetched $1,740.
This other minting error in a different die is somewhat rarer than the previous ones and involves using a 1-cent El Salvador coin blank. It appeared at auction in 2021 with a VF30 ANACS conservation from the Errorpalooza collection of a 1953-D Wheat Penny that sold for $1,860.
Throughout 2022 we have seen this other 1953-D Wheat cent AU58 PCGS ex-Fred Weinberg collection sold for $1,560.
#2 Error 1953 Lincoln Wheat penny "Off center"
Further proof of the high grading of 1953 Lincoln wheat cents minted on different modulus blanks over other error gradings can be seen below.
We have an Off-center error or offset mintage of a 1953 Lincoln cent with no less than 70% offset and a high grade as MS64 RD of PCGS. Let us remember that the greater the displacement and the more it does not prevent us from seeing the important data for the classification of the coin, the higher its economic valuation will be.
Well, this specimen was sold in 2019 for only $504.
References and sources
The Official Red book 2023: A Guide Book of United States Coins.
You may like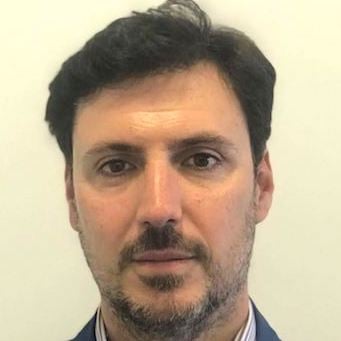 Numismatic collector with a passion for history, particularly Spanish history.
I have a degree in Business Administration and Management and numismatics studies at the
University of Murcia (Spain).