EXTERNAL SOURCES: pcgs.com ngccoin.com coins.ha.com
INDEPENDENT SOURCES: usmint.gov money.org
Ed. note: This article is periodically updated to reflect the current price of most valuable coins.
Coleccionistasdemonedas.com Estimated Value of 1942 Lincoln Wheat Penny is:
In average grades can be found between $0.20 and $0.50.
In high grades (MS67, MS68), Proofs, Uncirculated (MS+), or Mint Condition, it can be worth up to $126,500.
1942 Lincoln Wheat Penny Value
The Lincoln cent is the most produced Wheat penny in the history of the United States of America. Its minting began in 1909 and continues to the present day, having undergone several modifications in its design.
As a result, the Wheat Penny from 1942 may be one of the most collected series of pennies worth money, if not the most collected.
How to identify a 1942 Lincoln Wheat Penny
The Lincoln Penny was designed by Victor David Brenner. With a coin diameter of 19 mm and a weight of 3.11 g, its obverse features the bust of President Abraham Lincoln on the right with the word "Liberty" behind it and the legend "In God We Trust" above. In front of the bust is the date and mint mark ("D" or "S" since the Philadelphia mint has no mint mark).
The value "ONE CENT" and "United States Of America" are flanked by two ears of wheat as a symbol of prosperity. For this reason these pennies are also known as Wheat Reverse Penny. Above is the legend "E – Pluribus – Unum".
Regarding their composition, these coins were made of 95% copper and 5% tin and zinc, so they are nicknamed the 1942 penny copper too.
What makes a 1942 Lincoln Penny valuable? Types and variants
There are certain dates that, due to their historical context, may be of more interest to collectors – such is the case of the Lincoln Cents of the World War II years.
The 1942 Lincoln Cent was minted at the usual three mints: Philadelphia, Denver and San Francisco.
Philadelphia: No mint mark. It was minted the most issues with 657,796,000 units for normal circulation and 32,600 units in Proof grades. It was the only mint that produced Proof issues.
Denver: The mintmark is represented by a "D" under the date. A total of 206,698,000 1942 Lincoln Pennies were produced.
San Francisco: The letter "S" is used to mark the pieces produced in this mint. With a total of 85,590,000 units, it is the mint with the lowest production of the three.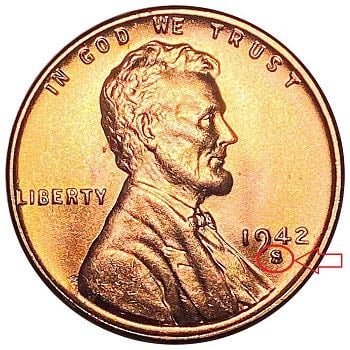 Below you can see in the photos where the mintmarks of the Denver (D) and San Francisco (S) houses are located. Remember that Philadelphia has no letter, only the date appears.
As we can see, the total production of the 1942 Lincoln or Wheat Reverse Penny was 950,084,000 Regular Strikes and 32,600 units in Proof quality. With these mintage quantities it is vital that we look for high grades of this series for both collecting and investment purposes.
Top 1942 Penny Value Chart
1942 penny worth million dollars?
Although it is common to find news with headlines like 1942 D Penny worth million dollars, these pennies are usually in private collections, and it is impossible to see any of them. Every valuable penny included in this list can be considered normal compared to million-dollar pennies. What if you have one of them in your home?
#1 1942 Aluminum – PR66 $126,500
In May 2009, a 1942 Lincoln Penny minted in aluminum and encapsulated by PCGS as PR66 appeared at Heritage Auction House. It fetched $126,500.
Apparently the origin of this specimen is an aluminum and silver alloy proof, in fact the coin is composed of 98% aluminum, 0.7% silicon, 0.6% iron, 0.5% silver and 0.4% magnesium (in fact we know that totaling the percentages it reaches 100.2%, but this is how the auction house has described it). Another difference lies in its weight, which is 1.563 g compared to the 3.11 g of the normal Wheat Penny.
The reference to this rare and scarce piece is to be found in the book by Judd-2079 and Andrew Pollock-2076 which gives it a rarity level of R.8.
#2 1942 D'Wheat Penny – MS68RD $12,650
Despite its wide mintage PCGS has only four 1942 D Lincoln Penny pieces listed in MS68 grade and RD (Red) tone, the highest grade for this type.
In 2006 a 1942 D Penny was auctioned at $11,500 and only two years later, in 2008, its price rose to $12,650 being the record sale for a piece of this year and mint.
In MS67+ quality during 2019 the value of several specimens closed in a range of $180 to $264, with the lower and upper limits of that range rising in 2020 between $264 and $600.
At MS67 its prices during 2020 ranged from $75 to $168.
#3 1942 Penny S – MS68RD $12,650
San Francisco was the mint that created the least amount of 1942 Lincoln Cents with 85,590,000 units.
In spite of the considerable number of minted quantities, there are not so many that have reached us in high preservation until today. Thus, PCGS has only 5 specimens in MS68RD (Red) and 87 in MS67+RD.
In 2020 the prices of 1942-S Lincoln Penny MS68RD remained in line with the previous year, for example in 2020 a specimen was auctioned at $7,200 and in 2019 another piece at $7,800, which we talk about next as it already reached a record price for an RD specimen in 2006.
In MS67+RD quality during 2020 we have seen auctions ranging from $240 to $456.
The highest price obtained for a 1942-S Lincoln Penny was in 2006 when a MS68RD example fetched $12,650. However, this same example had another auction appearance in 2008, auctioning for $9,775 (a 22% drop from its record price) and again in 2019, when it "only" fetched $7,800 (again registering a 20% drop from its 2008 auction price).
#4 1942 – MS67+RD $3,760
Philadelphia's 1942 Lincoln Wheat Penny RD (Red) is the most highly rated of Philadelphia's three 1942 Lincoln Penny types (Red, Red & Brown, Brown).
In 2016 a specimen belonging to the Jerald L. Martin Collection in MS67+ quality fetched $3,760, a record for a specimen of this year and mint. However in 2019 this same specimen fetched only $840.
The MS67+ grade is the highest for this type in PCGS and has 68 specimens recorded.
During 2020 the values achieved for MS67+ specimens ranged from $408 to $1,175. The MS67 graduation was auctioned between $104 and $144, well below the values of specimens graduated in MS67+, but it is logical if we consider that there are 6 times less graduates than in MS67.
#5 1942 – AU58 Minted on 10 Cents Die $2,990
This minting error of a 1942 Lincoln Penny minted on dime or 10C modulo coinage graded in AU58 ANACS quality was auctioned at the Heritage Auction (image attached) in 2010 reaching $2,990.
It belonged to the Alfred V. Melson Collection.
#6 1942-S/S/S/S RPM & DDO – MS67RD $2,350
In addition to the triple mintmark of the San Francisco mintmark (RPM = Repunched Mintmark), this type also has a double mintmark on the obverse (DDO = Double Die Obverse). For this reason it is more difficult to distinguish and find this variant.
There are 3 examples listed by PCGS in MS67RD quality of the Lincoln Penny 1942-S/S/S/S DDO with one of them obtaining the record as the most valuable example of these characteristics for selling on eBay in 2019 for $2,350.
#7 1942-S/S RPM – MS67RD $1,763
On this very scarce double mintage mint error on the obverse of a 1942-S Lincoln Cent we found only one specimen in MS67RD quality in PCGS and no specimens in NGC.
The auction price of the specimen shown in the photo in 2020, the only specimen for which we have a record of auction prices, closed at $1,763.
How valuable are 1942 Lincoln Penny proofs?
Going into the Proof grades of the 1942 Lincoln Penny, we will only find Philadelphia mint issues, i.e. without mint mark.
A total of 32,600 Proof 1942 Wheat Reverse Penny Proofs were minted in Philadelphia, the most valuable of which are shown below:
#8 1942 – PR67RD CAM $17,625
The highest price recorded for a 1942 Lincoln Cent Proof Red Cameo is $17,625 and was achieved for a specimen encapsulated by NGC in 2014. In 2017 a specimen of the same characteristics encapsulated by PCGS was auctioned at $14,688.
Clearly these are very fine specimens with attractive appearance and preservation since other coins with identical grading have been auctioned between 2016 and 2017 with price ranges from $2,820 and $4,700.
More recently, in 2019, 1942 Lincoln Cent Proof examples with MS66RD grades have been auctioned for $1,020 and $2,280.
#9 1942 – PR67+RD $4,080
In September 2020, this 1942 Lincoln Penny was auctioned at Heritage Auction House for $4,080.
Also in 2020 we have seen a 1942 Lincoln Penny Red in PR67 sold for $2,950. This price, which at first glance seems high, should be compared to previous years. In 2018 two specimens, in the same gradation, it sold for $2,300 and $3,643, and in 2017 two other specimens were auctioned at $2,820 and $3,055.
#10 1942 – PR67RB $690
In Proof quality you can also get high prices for certain 1942 Lincoln Cent examples such as PR67RB which sold for $690 in 2012.
You can also find very common 1942 Lincoln Cent minting errors, just like on other Lincoln or Wheat Reverse Penny dates, such as off-center mintages, double mintages, etc. but they are less valuable than other cent errors from other dates such as 1943, 1944 or 1945.
Our recommendation
Therefore, unless you are able to find certain errors on all 1942 Lincoln Cent coins you get your hands on, you should always try to get them in high MS grades if possible, both if you collect them and if you want to invest in them.
References and sources
The Official Red book 2023: A Guide Book of United States Coins.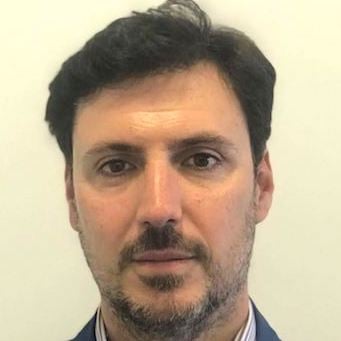 Numismatic collector with a passion for history, particularly Spanish history.
I have a degree in Business Administration and Management and numismatics studies at the
University of Murcia (Spain).