EXTERNAL SOURCES: pcgs.com ngccoin.com coins.ha.com
INDEPENDENT SOURCES: usmint.gov money.org
Ed. note: This article is periodically updated to reflect the current price of most valuable coins.
The value of the 1965 Roosevelt Dime is lower than dimes from earlier dates because silver was no longer used in the production of this coin in 1965. As a result, the composition of the coin doesn't contribute much extra value, perhaps only a few cents due to its copper content
1965 Dime Value: How much is a Dime from 1965 worth?
Coleccionistasdemonedas.com Estimated Value of 1965 Roosevelt dime Quarters is:
In average quality to be between 50c and $1. Mint State (MS) certified specimens are valued between $2 and $500 depending on grade.
There are more valuable 1965 Roosevelt dime types explained below that can be worth thousands of dollars.
You just need to keep reading this article to know more.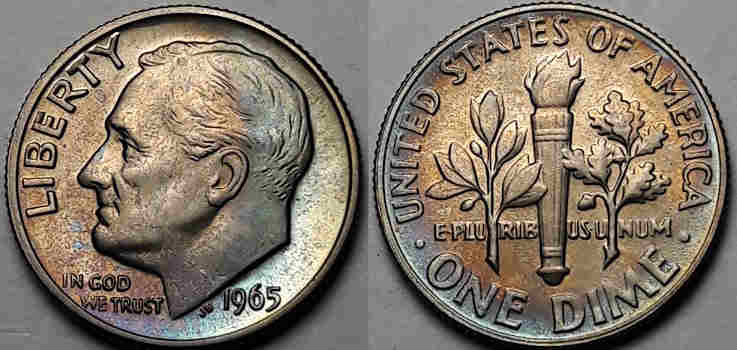 The history of the Roosevelt Dimes
From its inception in 1946 (shortly after the end of World War II) until 1964 Roosevelt Dimes were minted with 90% silver and 10% copper.
The United States Mint decided in 1964 to stop using silver in the dies because of the high cost of silver, using instead copper and nickel for the core and for plating.
However, this doesn't mean that the 1965 Roosevelt Dime lacks value or isn't sought after by collectors. If you're interested in discovering the most valuable types and grades, we recommend reading this article.
This 10-cent coin replaced the Mercury Dime, which ceased production in 1945. The new design features the left-facing bust of President of the United States, Franklin Delano Roosevelt (who passed away in the same year, 1945). It was crafted by the Chief Engraver of the United States Mint, John R. Sinnock, whose initials are located beneath President Roosevelt's bust.
List of Most valuable 1965 Roosevelt Dimes
It is very important to look for high grades to collect or invest in 1965 Roosevelt Dimes, since the high number of units manufactured in a single mint makes it easy to find specimens of this date.
| Position | Type | Grade | TGP | Max. Value |
| --- | --- | --- | --- | --- |
| #1 | Silver Planchet | MS62 | PCGS | $9,000 |
| #2 | Full bands FB | MS68 | PCGS | $3,819 |
| #3 | SMS | SP68 CAM | PCGS | $2,585 |
| #4 | Full Torch FT | MS68 | NGC | $1,528 |
| #5 | Standard | MS68 | PCGS | $500 |
| #6 | SMS | SP68 | PCGS | $207 |
1965 Dime value chart
#1 1965 Roosevelt Dime Silver planchet – PCGS MS62 $9,000
This specimen that fetched $9,000 at auction from Heritage Auctions in 2019 belonged to the Poulos Family Collection and is among the few in MS62 graduation. 
Other silver specimens in different preservations have reached the following prices:
| | |
| --- | --- |
| Grade | Value |
| PCGS MS62 | $9,000 |
| PCGS AU58 | $8,913 |
| NGC AU58 | $8,400 |
| ANACS AU55 | $4,025 – $8,625 |
| PCGS AU55 | $5,175 |
| PCGS Genuine | $3,840 |
| NCS AU50 | $1,955 |
| ANACS PR48 | $1,815 |
1965 Roosevelt dime "silver planchet" Value Chart
#2 1965 Roosevelt Dime Full Bands (FB) – PCGS MS68 $3,819
This classification used by PCGS is more scarce and valued than the 1965 Roosevelt dime without this classification. The highest grade awarded by PCGS to FB specimens is MS68, three specimens listed. Of those three specimens, the record is held by a 1965 Roosevelt dime auctioned in 2013 at $3,819.
A second MS68 specimen was auctioned in 2019 at $2,938.
At MS67 graduation, selling prices have gradually declined from 2014 (auction $1,645) to 2017 ($764).
#3 1965 Roosevelt Dime SMS- PCGS SP68 CAM $2,585
The highest grade awarded by PCGS to a 1965 Roosevelt Dime SMS SP68 CAM achieved an auction value of $2,585 in 2014. This same specimen came up for auction again in 2020 and auctioned for $2,280.
In order to achieve similar prices on NGC-graded specimens, you must look for SP69 CAM grades. One specimen was auctioned in 2020 for $1,920.
#4 1965 Roosevelt Dime Full Torch (FT) – NGC MS69 $1,528
We remind you that the Full Torch rating is the one used by the NGC company. NGC has graduated one 1965 Roosevelt Dime FT in MS69 and 10 specimens in MS68.
This 1965 Roosevelt dime FT specimen in MS69 was auctioned in 2017 for $1,528, the highest value achieved for one of these types. At MS68 we have with auctions between $734 and $1,116 for the best specimens and between $83 and $138 for the rest.
During the years 1965 to 1967 no Roosevelt dimes were produced in Proof quality, we can only find special sets (SMS, Special Mint Sets) that contained specimens with this mintage.
A total of 2,360,000 SMS 1965 Roosevelt Dimes were produced.
#5 1965 Roosevelt Dime (standard)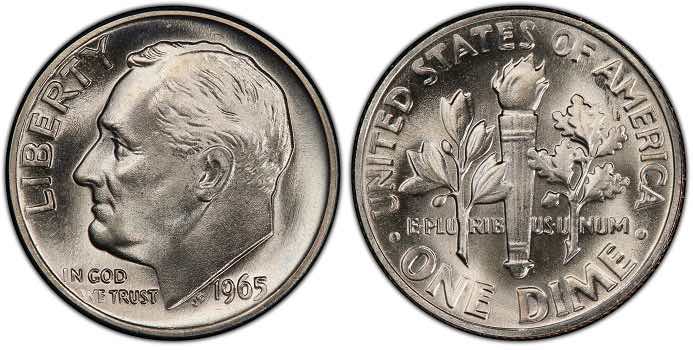 As a help in price orientation, below is a table where you can find several prices depending on the conservation of the 1965 Roosevelt Dime you have or are looking for. But always starting from MS grades since for lower grades its value is between 10-cents and a few dollars:
| | | | | | | | | |
| --- | --- | --- | --- | --- | --- | --- | --- | --- |
|   | MS61 | MS62 | MS63 | MS64 | MS65 | MS66 | MS67 | MS68 |
| 1965 10 c | $3 | $4 | $5 | $6 | $12 | $30 | $100 | $500 |
1965 Roosevelt Dime value chart
#6 1965 Roosevelt Dime SMS- PCGS SP68 $207
With a production run of over 2 million copies, the 1965 Roosevelt Dime SMS is not a very valuable piece. In fact, in a high grade such as SP68, the highest price achieved was $207 in 2005 for a PCGS graded specime. High-grade pieces such as NGC's SP69 sell in the $83 to $165 price range.
1965 Dimes with no mint mark
The obverse is completed with the legends 'LIBERTY' and 'IN GOD WE TRUST' in the field on the left side of the bust and the date on the right side.
Initially, its composition was 90% silver and 10% copper, but this was changed in 1965 due to the cost of using silver. Thus the 1965 Roosevelt Dime is composed of a pure copper core with a cladding of 75% copper and 25% nickel (called "clad coveted").
The weight of the 1965 Roosevelt Dime is 2.27 g and its diameter is 17.90 mm.
There are few types of 1965 Roosevelt Dime since:
It was only minted at the Philadelphia Mint, so it bears no mint mark.
A large number of pieces were manufactured both for circulation, a total of 1,652,140,570 units, and also in Special Mint Sets (SMS) presentations, 2,360,000 units.
How to identity a Rare 1965 Dime
There are higher and more valuable grades of the reverse of the 1965 Roosevelt Dime that have a premium in their economic value and that we will distinguish based on the grades used by the two TGP companies: PCGS and NGC.
First of all, on the reverse of the Roosevelt dime there is a flaming torch in the middle, an oak branch, and an olive branch between the legend 'E PLURIBUS UNUM'. Above 'UNITED STATES OF AMERICA' and below the value in lettering '- ONE DIME -'.
These reverse types of the 1965 Roosevelt Dime correspond to well-defined mintages and preservations very much centered on the reverse torch. Thus we have:
1965 Roosevelt Dime Full Bands (FB) used by the PCGS company. The two upper and lower torch bands on the reverse and the horizontal lines dividing them are perfectly defined, identified, and separated from the torch.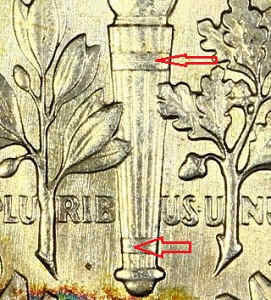 1965 Roosevelt Dime Full Torch (FT) is used by NGC and in this grading, in addition to the lines of the two torch bands being well defined as in the case of PCGS, the vertical lines of the torch must be perfectly visible.
Both companies started using the FB or FT nomenclature in 2003 and it should be clarified that the criterion followed by NGC is much stricter since it implies that, in addition to the upper and lower pair of horizontal bands with their completely visible separation, the vertical lines of the flare must be well defined.
However, this stricter criterion followed by the 1965 Roosevelt dimes FT of NGC does not always entail a higher price for the coin than if it were FB. And this should be taken into account when looking for these types of pieces.
Types of valuable 1965 Dime errors
If you have read the article this far well done because we have saved the most valuable piece for last. It is the 1965 Roosevelt Silver dime. And yes, even though it was not scheduled for production after 1964, the 1965 silver 10-cent with 90% silver and 10% copper does exist.
The reasons why silver dime coin blanks prepared to be minted with a 1964 date were actually minted in 1965 are unknown, but this is not the only error in American numismatics in this regard (link to my article #13 1943 Pennys copper 202011).
There are several aspects that you must take into account in order to identify a 1965 Roosevelt Dime clad coveted from a silver one:
Weight is key: a 1965 Roosevelt dime of copper and nickel weighs 2.27g and a silver one weighs 2.5g.
The 1965 Roosevelt dime clad coveted features a fine line on the edge for copper and nickel plating.
The 1965 Roosevelt dime silver does not react to a magnet.
Over the years the silver specimen may develop an iridescent patina in the legend area.
The 1965 Roosevelt dime silver planchet is a very valuable and appreciated error by collectors but it is not as unique as you might think if you want to find it in AU grades.
On the other hand, MS grades are very scarce and valuable specimens.
References and sources
The Official Red book 2023: A Guide Book of United States Coins.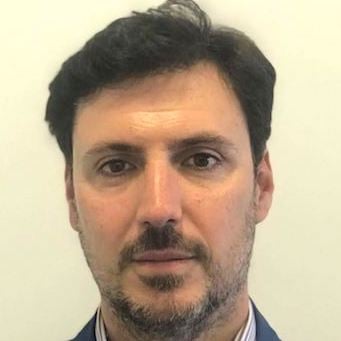 Numismatic collector with a passion for history, particularly Spanish history.
I have a degree in Business Administration and Management and numismatics studies at the
University of Murcia (Spain).